Speech by Francis Yeoh, Muhammad Ali Celebrity Fight Award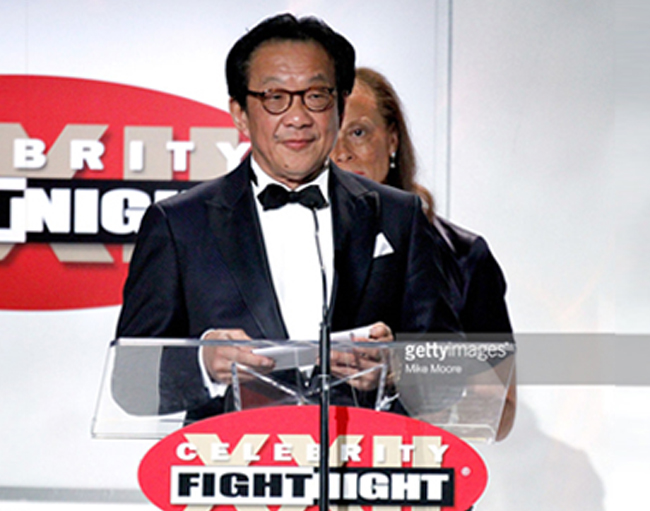 Phoenix, Arizona, April 9, 2016
Speech by Francis Yeoh
Muhammad Ali Celebrity Fight Award
Good evening Ladies and Gentleman Founder and Chairman of Celebrity Fight Night Jimmy Walker, and of course the legendary Muhammad Ali and wife Lonnie. First of all I would like to say thank you for this magnificent award. I feel blessed to have been honoured in this way by a Foundation whose incredible work directly improves people's lives.
Tonight we are blessed by the generous support of artists like multi-Grammy award winners Reba McEntire and Carrie Underwood and my good friend David Foster who have all generously lent their voices and support to this overwhelming gathering of love and paying it forward.
In the last 22 years, Celebrity Fight Night has raised over $118million for good causes, notably the Muhammad Ali Parkinson Center at Barrow Neurological Institute in Phoenix. This week I had the privilege of spending some time at the Centre, which is leading the world in treatment for Parkinson's and working to improve the day-to- day quality of life for patients.
If you haven't been to the Centre, I urge you to go. To have the opportunity to see the incredible work that goes on there was both humbling and inspiring and a valuable reminder of why we're all here this evening.
The visit allowed me to see first hand how the money raised from Celebrity Fight Night translates into treatment and support on the ground.
Two years ago the 30,000 square foot Comprehensive Care Centre was an empty office space. Now it is at the cutting edge of Parkinson's treatment, delivering world class care to over 100 patients every day. And all of this was achieved thanks to funds raised from Celebrity Fight Night.
What I saw was a clinic that is spearheading vital research into better understanding of Parkinson's, offering the latest medical treatments and therapies. I saw patients benefitting directly from your donations and enjoying improved quality of life all thanks to Celebrity Fight Night fundraising.
At the centre I met Sean Currie, Executive Director of Celebrity Fight Night, who is here tonight. Something Sean said when we met resonated with me: "Eventually my hope is a world without Parkinson's, where we'll never have to think about it again."
Sean, I too would like to imagine a world without Parkinson's. My prayer is a world where Parkinson's is a condition that is consigned to history; where events like tonight don't need to happen because we have found a cure.
But until that day the money we raise tonight continues to support some of the most valuable treatment and therapies anywhere in the world.
The Muhammad Ali Parkinson Centre provides a one-stop-shop for anyone with Parkinson's as well as their families and carers, to help manage their condition. And it is open to anyone from across the globe, whatever their circumstances.
That's because Parkinson's doesn't differentiate. It doesn't see rich or poor, male or female, young or old. The stories I heard of treatment and rehabilitation were profound. But what will stay with me equally is the humanity of the staff. The care and dedication they have for their work is nothing short of inspirational.
They don't see Parkinson's. They see the person behind the Parkinson's. What I saw were angels at work. This isn't just a centre that bears Muhammad Ali's name. It's part of the great man's life. During my visit, I was told of a woman who was undergoing intense physiotherapy at the centre, who said to one of the doctors with a huge smile on her face, "I was in here last week and I couldn't believe it; Muhammad Ali came in."
The world knows the powerful story of Muhammad Ali; The world's greatest fighter and sportsman. But while he is the without doubt the greatest sportsman of our lifetime, I believe his legacy will be the awe-inspiring work of the Muhammad Ali Parkinson Centre.
I recently read the Pope's book, The Name of God is Mercy. Mr Muhammad Ali you are the personification of that and mercy runs through your DNA. To see this man continue his personal fight with such determination, vigour and dignity in his campaign to find a cure for Parkinson's is remarkable and the sign of a true warrior.
As the great man himself said: "The fight is won or lost far away from witnesses. Behind the lines, in the gym and out there on the road, long before I dance under those lights."
Tonight is a celebration of that fighting spirit and we continue to honour the work of Muhammad Ali this evening. This is an award I will cherish. My experience in the last week will stay with me long after I leave Phoenix and I thank you again for this incredible honour.
Ladies and gentlemen please be upstanding and raise a glass, the toast is still the greatest, still the heavyweight champion of the world - Mr Muhammad Ali.