YTL's ERL Unveils New KLIA Ekspres Train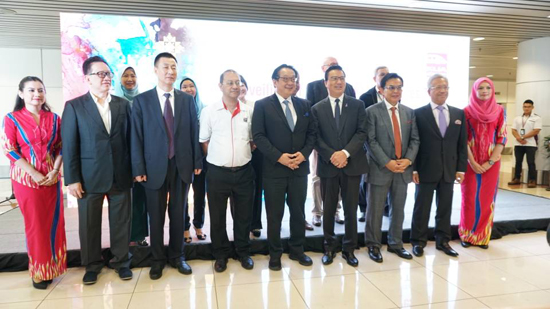 Sepang, March 13, 2018
Express Rail Link Sdn Bhd (ERL) the operator of KLIA Ekspres and KLIA Transit services unveiled its new KLIA Ekspres train with an exciting new livery based on songket motifs. After the unveiling, Minister of Transport Dato' Sri Liow Tiong Lai got the chance to drive the new train on a ride from KLIA to Salak Tinggi station.
The latest livery on the trains blend traditional songket motifs like Pucuk Rebung, Tapak Sulaiman, and Bunga Pecah Lapan, with vibrant splashes of colours, producing a contemporary design that represents the innovative spirit of the company.
Joining Dato' Sri Liow on the train ride were Executivve Chairman of ERL, Tan Sri Mohd Nadzmi Mohd Salleh, Tan Sri (Dr) Francis Yeoh, Managing Director of YTL Corporation Berhad and CRRC Changchun President, An Zhongyi.
ERL bought six new trains from Changchun Railway Vehicles Co. Ltd to accommodate the strong demand and improve passenger comfort. All six trains have been delivered to ERL and will be in use this month as ERL increases its frequency on KLIA Transit during peak hours.
Tan Sri (Dr) Francis Yeoh said, "We are very proud of all our unsung heroes in YTL's ERL team. Since 2002, 88 million passengers have trusted us with this service. We have a punctuality record of 99.7%, one of the best in the world.
"The existing trains have travelled a total of 7 million kilometres equivalent to travelling around 160 times round the globe or 10 times to the moon and back.
"We have now invested on these new trains so that they will be able to carry up to 200 million passengers over the next few years. The team is expected and entrusted to keep this punctuality record of 99.7% and I know they will. May God bless them."
Tan Sri Mohd Nadzmi in his speech said, "The six new trains will increase ERL's total capacity by fifty per cent and allow ERL to offer a more efficient service and cater to our growing ridership, which has increased notably since the opening of klia2 in 2014."
Travellers can now expect less waiting time as train departures will be improved to every 15 minutes during morning and evening peak hours on weekdays from the current 20-minute intervals, putting it on par with the KLIA Ekspres service.