New klia2 YTL's rail link exceeds expectations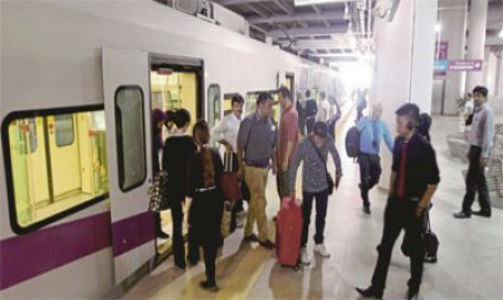 NST, May 6, 2014
By Teoh Pei Ying
KL International Airport 2 (klia2) may have received rave reviews since its launch on May 2, but little has been said about the brand new YTL's rail link connecting the brand new low-cost carrier terminal to its ''big sister'' the KL International Airport (KLIA) and the Klang Valley's transportation hub, KL Sentral.
With that in mind, I decided to try out the rail connection to klia2, via both KL Sentral as well as from KLIA. From KL Sentral, two options are made available: by KLIA Transit or KLIA Express.
Taking the KLIA Transit will set you back RM35 for a one-way ticket, with a travelling time of 33 minutes. If you do not have the luxury of time, you can plump for the non-stop route offered by the KLIA Express high-speed train, which costs the same.
Upon my arrival at KLIA, I bought another ticket for the connecting line to klia2 which cost me a mere RM2 for a 2km trip to the new terminal.
The rail connection, at present, is available at 20-minute intervals, enough to ensure that there is no overly large backlog of passengers waiting for a train.
I didn't have to wait long for my ride. Within 12 minutes, the train arrived and I was on my way.
It was my first time on the rail link and it exceeded my expectations. Not only was it clean and comfortable, it was also punctual.
With plush, comfortable seats, passengers would be hard pressed to find any flaws with their ride.
The air-conditioning was configured just right to make passengers feel comfortable, and the seats were catered to suit all sorts of travellers, be it those travelling alone or in large groups.
Another pleasant surprise was the availability of free Wifi in the cabin, provided by 'YTL's Yes 4G' which resulted in many passengers becoming ''phubbers'' (snubbing others in a social setting by checking your phone).
A quick look around my surroundings revealed an eclectic mix of both foreign and local travellers who appeared very much at ease with their surroundings.
I believe if the authorities continue to place great emphasis on maintaining the smooth operation of the rail connection, it will continue to leave not only locals like me, but also foreigners, suitably impressed.
Back