Michelle Yeoh launches Lot 10 Hutong Guangzhou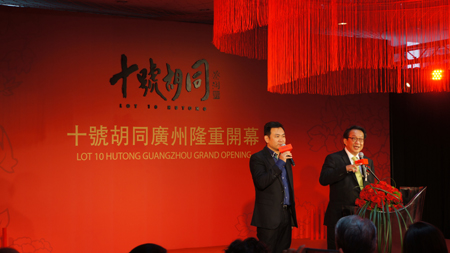 Guangzhou, China, September 1, 2013
YTL has made its mark in the southern city of Guangzhou, China with the launch of Lot 10 Hutong offering Malaysia's best-loved hawker food.
The brainchild of YTL Group managing director Tan Sri Francis Yeoh, the Lot 10 Hutong Global Brand was launched with much fanfare with Malaysian actress Tan Sri Michelle Yeoh and international shoe designer Datuk Jimmy Choo in attendance.
Also present were Malaysian Tourism Promotion Board chairman Datuk Seri Dr Ng Yen Yen, renowned Asian food writer and critic Chua Lam, celebrity chef and television host Martin Yan and city officials.
YTL's Lot 10 Hutong, Malaysia's first gourmet heritage village in Lot 10 shopping centre in Kuala Lumpur opened its doors at the Fuli Yingxin Building in Guangzhou and offers the best of Malaysian hawker fare in China. Located in Zhujiang New Town Development, which is the new central business district and financial centre of Guangzhou, the Tsai Lan City of Fusion Foods is spread over two levels.
Speaking to guest at the launch, Tan Sri Francis Yeoh talked about the uniqueness of his heritage and the food he was brought up with. "What I ate growing up and what I eat everyday can be traced to what my great grandparents ate in China. The flavours and tastes of this great country are deeply rooted in Malaysian Chinese culture."
The Hutong brand was born out of Yeoh's love for Malaysian Chinese food and the desire to protect this cultural heritage.
"I enlisted the help of the most famous heritage food brands in Malaysia and some of them are between third to fifth generation family-owned businesses. They shared my dream to put together in one place, the best Malaysian food," Yeoh explained.
Lot 10 Hutong Guangzhou houses 19 Malaysian heritage brands like Pin Qian Klang Bak Kut Teh, Imbi Road Original Pork Noodle, Soong Kee Beef Noodle, Hon Kee Porridge, Kim Lian Kee Hokkien Mee and Campbell Mini Popiah.
The soon-to-be-completed upper level will feature an array of premium gourmet delights from Hong Kong and Taiwan selected by Lot 10 Hutong's international brand ambassador and celebrity food critic, Chua Lam.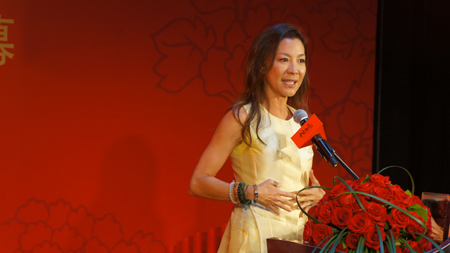 Lot 10 Hutong was launched in 2010 in Kuala Lumpur and in a short time garnered many good reviews. CNN calls it one of "Kuala Lumpur's Top 20 Best Local Cuisines" whilst the New York Times considers it one of "Asia's Top Odysseys".
Yeoh was joined by fellow Malaysian food enthusiast and close friends who flew in from all over the world for the grand launch of Lot 10 Hutong Guangzhou.
Hollywood actress Tan Sri Michelle Yeoh spoke about how excited she was that the Lot 10 Hutong brand was going global. "Francis is not only a friend, he is like family. I fully support his dream because in the future, I wish that whenever I travel to other countries, I will find Lot 10 Hutong!" she said.
"Our culture is an important part of who we are, no matter where we are in the world," she stressed while thanking the hawkers who have persevered in conserving their culture.
Food critic and mastermind behind the Tsai Lan City of Fusion Foods, Chua Lam also talked about the importance of preserving comfort food in his speech. "It's something that should last forever," he articulated.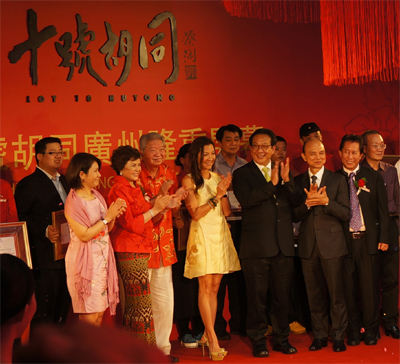 Martin Yan, television host and highly acclaimed Chinese culinary food chef gave a poetic speech and talked about how he found his life-long ambition by first working in a Chinese food restaurant.

"When I was small, my mother used to quote me a Chinese Proverb: The one who lives in the kitchen will always find food. I found my interests and ambitions in cooking and it became my life-long career.
"I admire the vision and the efforts of Tan Sri Francis Yeoh and Mr Chua. Their efforts have added vitality to Chinese delicacies and Nanyang food. Although most of us are living in a foreign country, but we still have not forgotten our roots. We believe that Chinese delicacies and Nanyang food will grow here, with the help of historical and cultural elements of traditional Chinese food, "said Yan.
The highly charismatic chef talked about spending time in South America, and globally, trying to promote Chinese food through TV, magazines and other mediums. "I just completed a show called 'The Taste of Asia', a show that introduces Asian food. I hope that people will understand more about the history and culture of Chinese food.
"The ability of one person is limited. But I believe, with the contribution of everyone here, we can get comfort food at a reasonable price," he continued.
"With Tan Sri Francis Yeoh, Mr Chua, thousands of culinary staff and food lovers, their effort will bring Chinese and Nanyang food to the world! I hope that Lot 10 Hutong will grow in Guangzhou, and give food lovers a chance to taste authentic Chinese-Malaysian food," said the excited Yan.
The expansion of the Lot 10 Hutong Global brand marks the home-coming of many Chinese dishes we experience in Malaysia daily.
YTL Group chief Tan Sri Francis Yeoh was truly impressed with the perseverance of Chinese hawkers and their eagerness to preserve their culture and traditional food from generation to generation.
"The Chinese have a story called '刻苦耐劳', which means perseverance. And that's where the catharsis of food comes in. Many people may not know that the Chinese may not have anything to hang on to with their hard work, for generations, but they hang on to their cooking of all these comfort food. This place makes them feel proud as a Malaysian team of the best three to five generation hawkers. I'm very proud of this story.
"When I talk about taking the long-haul and long-term generations of these hawkers that made it, I hope we'll be able to serve hundreds and millions of Chinese. And hopefully when we have this scale, we'll go to New York and London and tell the same story. It's a great story. It's a very romantic story of the virtue of hard work," he concluded.
Back