Many 'firsts' at Ernst & Young World Entrepreneur Of The Year 2011:Tan Sri (Dr) Francis Yeoh honoured at being the first Asian Chairman of Judges Olivia Lum, first female Entrepreneur crowned at the Ernst & Young World Entrepreneur Of The Year 2011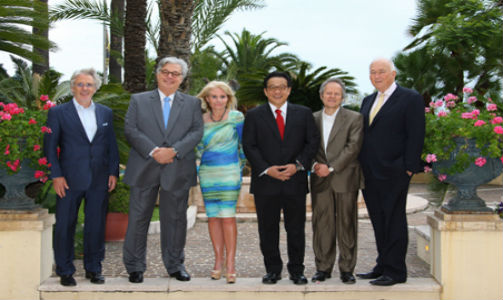 Monte Carlo, 2-5 June 2011
By Alvin Goh
From 2nd to 5th of June, 49 successful entrepreneurs from 44 countries gathered in beautiful Monte Carlo for a shot at being crowned Ernst & Young World Entrepreneur of the Year.
Regarded as one of the most prestigious global entrepreneurial award, it is a culmination of respective 'national' Entrepreneur of the Year Awards that took place in over 40 countries. These countries represent more than 90% of the global economy.
The renowned Hermitage Hotel hosted the massive operation to find this year's 'entrepreneur of entrepreneurs', amidst the watchful eye of the global media. Whilst the Award Ceremony was held on 4th of June in the grand Salle des Etoiles, which boasts the imposing city of Monte Carlo as a backdrop.
Cirque du Soleil provided lively evening entertainment, performing breath-taking circus acts to loud applause. Incidentally, Guy Laliberté, founder of Cirque du Soleil was World Entrepreneur of the Year in 2007.
Olivia Lum of Singapore, Group CEO and President of Hyflux Limited was made this year's World Entrepreneur of the Year.
Ms Lum came from very humble beginnings and had to battle poverty throughout her childhood. In fact, she had worked as a child labourer in order to provide for her primary education. However, her personal story is more than one of rags to riches, but an entrepreneurial spirit that transformed Hyflux Limited into becoming one of the world's leading desalination suppliers.
Hyflux's desalination technology has helped ensure Singapore's water security and is now being employed throughout Asia, the Middle East and North Africa. Later, at the post-event press conference, Ms Lum reiterated her firm commitment to making desalination technology affordable to countries suffering water scarcity.
Ms Lum gave a short acceptance speech, confessing the win to be "unexpected". Thanking her Lord Jesus Christ and various "angels" in her life, Ms Lum also wished that her award will encourage more women entrepreneurs to participate in the competition. But unbeknownst to her, she had become the first female winner of this award in its 25 years history.
Apart from Ms Lum, there was also another 'first' in this year's World Entrepreneur of the Year. Tan Sri (Dr) Francis Yeoh, Managing Director of YTL Group of Companies was the Chairman of Judges and the first Asian to preside over a judging panel that was made up of illustrious entrepreneurs from around the world.
Casting light on the judging process, Dr Yeoh commented on the difficulties picking a winner, "All 49 of them were worthy of winning. They are leaders in their own industries, and some have even created them from scratch. All of them run successful businesses, and most carry brands that are big names in the market. Whom do you choose?"
"In fact, I have recommended to Ernst & Young that we create a second category for this award next year. One chosen by peers or fellow contestants! That should make things more interesting," he added.
For the judges, the award was certainly a good indicator of trends and realities in the business world. This year, all 49 candidates epitomised not only the very best in commercial acumen and market leadership, but in corporate governance and social responsibility. There appeared to be a general consensus that entrepreneurship and ethics are not mutually exclusively, but intricately related and very important, certainly for all 49 individuals concerned.
In fact, just before the winner was announced, as Chairman of the Judges, Dr Yeoh gave a speech and actually congratulated all 49 entrepreneurs for championing business as a force for good.
"The judges were genuinely impressed by how much these entrepreneurs are turning the world upside down! I wish we could clone every single one of them hundred times," he said later.
Commenting on Ms Lum's success, Dr Yeoh emphasised that none of the judges knew that there had never been a female winner in the history of the award. There were various criteria in the judging process but they were fully geared towards finding the 'entrepreneur of entrepreneurs' - the Primus Inter Pares or 'First Among Equals'.
"Yes, we considered how difficult it is for women to be in business. But Olivia did not win because she was a woman. We had a very strong field of 49 and it would be wrong to pick her because of gender bias."
"Olivia won because the judges appreciated the enormous impact of her desalination business. Of course, her remarkable life story helped a lot. But we were more impressed with the scalability of Hyflux's desalination technology in many countries, because water is scarce. And water is profitable business. Olivia is a business woman true and true," remarked Dr Yeoh.
In his speech, Dr Yeoh also made a friendly gesture and thanked the families of all 49 entrepreneurs for sticking by them. He said, "Entrepreneurship is tough and because of you, these 49 can further their dreams and make our world better. You deserve our applause!"
Dr Yeoh was asked how he would remember the week. "I am grateful to have been made Chairman of the judging panel. I give credit to our Lord Jesus for the honour and I certainly thank Him for giving me wisdom throughout the judging process. But believe me, it was really hard work," he said with a smile.
-----------------------------------

Speech by Tan Sri (Dr) Francis Yeoh
Ernst & Young World Entrepreneur of the Year Award Ceremony
Salle des Etoiles
4th June 2011
Ladies and Gentlemen,
It is a very rare privilege for me to preside over the judging of the Ernst & Young World Entrepreneur of the Year.
I speak for my fellow judges, when I say that being a judge was never boring. In fact, it was one of the most productive things we have done in the short space of two days. We found ourselves enlightened, overwhelmed and inspired by 49 compelling stories. Entrepreneurs who make this world a much better place with their passion, vision and determination!
In fact, the 20-minute interview per candidate was always too short. We enjoyed probing the candidates with tough and unconventional questions. We dug deep into what was said to us. We even had researchers diligently 'Googling' for facts and figures – as a matter of due diligence. And of course, we fought the timekeepers to get our questions in, whom to their credit, kept all the judges stuck to the timer.
That is why we wish to emphasise that whatever happens this evening, no one is being eliminated! All 49 individuals have brought tremendous dignity, spirit and smartness to the business profession. And as fellow entrepreneurs ourselves, we are but full of respect and admiration for them.
But one will be elevated from amongst the 49 to become the Ernst & Young World Entrepreneur of the Year. He or she will be Primus Inter Pares or 'First Amongst Equals'.
Throughout these couple of days, a consistent entrepreneurial trait that we picked up is that entrepreneurs micromanage a lot!
Micromanaging by entrepreneurs may not necessarily be an oxymoron. Having studied the commitment of these 49 entrepreneurs and recognising how much they have transformed our world with their God given ingenuity, detail and resilience, we think micromanaging is quite OK after all.
But just as God micromanages our world very well and then He delegates to us to do the same, entrepreneurs should learn to delegate. We observed that those who actively delegate succeed in spreading their entrepreneurial vision and passion a lot more. We also observed that this lends sustainability to a particular commercial endeavor.
This brings me to highlight another common thread amongst the entrepreneurs that the judges found impressive – the common goal that business must be a force for good.
We were repeatedly bowled over by the immense contributions made by the entrepreneurs not only in promoting good corporate governance and practices, but also in transforming societies with sound ethics and incredible generosity.
Whether their conviction is as a result of their faith in God, or as a consequence of their sense of common decency, this room has contributed very significantly to the betterment of our world. Because of these 49 entrepreneurs, the world is kinder, greener and more dignified place to live in. We salute you!
We pray for more and more folks like you - trailblazers, decent hearted and fired up to create great value for a world struggling for hope and purpose.
We also wish to say to those family members of the 49 entrepreneurs who are here tonight, thank you for sticking by these great men and women. Entrepreneurship is tough and because of you, these 49 can further their dreams and make our world better. You deserve our applause.
Before I end, let me thank Ernst & Young for giving me this opportunity to preside over the judging process.
And with all my heart, I want to thank my fellow judges for being such good sport. They are very capable entrepreneurs in their own right but more so, individuals of immense integrity. It has been fun being stuck in the same room with you for 2 straight days.
Finally, I wish to thank our Lord Jesus Christ for giving me this tremendous honour of being a Chairman of Judges, and bringing good will to all 49 amazing individuals.
I wish all of you continual success and God's richest blessings.
Thank you.
Back