YTL launches Climate Change Week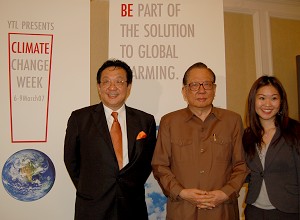 Kuala Lumpur, 13 February 2007
Urgent move to raise awareness for global warming amongst Malaysians
With global warming at the forefront of global and local concerns, YTL Corporation Berhad today announced its upcoming Climate Change Week, as part of its long-standing involvement and commitment to environmental protection.
Hosted for the very first time, Climate Change Week, will take place from 6-9 March, 2007, and is designed to raise the level of environmental consciousness amongst Malaysians, as well as to inspire them in joining the fight against global warming.
"Climate change has emerged as a challenge faced by every citizen in the world; we are currently at a crossroads, and if we don't face it now, it will be at a dire cost to ourselves, to the environment and to the health of future generations", said Tan Sri (Dr) Francis Yeoh, Managing Director of YTL Corporation Berhad.
In conjunction with Climate Change Week, YTL will be holding the international launch for 'Cut Carbon, Grow Profits', a book that brings together a collection of international case studies from various corporate leaders and experts, edited by Ruth Yeoh, Finance Director of YTL Corporation and Dr. Kenny Tang, Founder/CEO of Oxbridge Climate Capital, leading UK experts in the fields of carbon reduction and clean technology.
Tan Sri (Dr) Francis, a self professed "greenie" and tree hugger, spoke extensively on the crucial role of businesses in leading the development and implementation of "clean technology", an initiative that has been a core strategy of the YTL Group for many years.
"We've been working hard to innovate ways to use clean technology because we need to have more adaptive technologies in addition to preventive ones. In fact, as a utilities player, we insist that our equipment suppliers must continuously work to improve their technology, not just because we demand it, but also due to the big consumer push for it", added Tan Sri (Dr.) Francis.
Last year, YTL established the Puan Sri Rosaline Yeoh Prize for the most Societally Responsible Innovation, in order to spur more local companies in this direction.
To encourage further debate and discussion on the subject, YTL will also be organising a 'Cut Carbon, Grow Profits' business conference at The Ritz-Carlton Conference Centre on March 8th The one-day climate change business strategy conference is for forward-thinking global CEOs and senior managers on how to operate in a low-carbon economy, while focusing on bottom lines and long term solutions.
As part of Climate Change Week, some lucky Malaysians will be the first to catch the Oscar-nominated documentary, 'An Inconvenient Truth', as YTL will be sponsoring free public screenings at The KL Performing Arts Centre (KLPac), on 8-9 March. The documentary, starring former US vice-president Al Gore, exposes the myths and misconception surrounding global warming. All are invited to sign-up for the free screenings from February 22 - 28, 2007.

Text of speech by Tan Sri (Dr.) Francis Yeoh, CBE
Thank you for joining us today to talk about a topic that is of great importance and consequence to each of us here - global warming. In the last few months, this topic has gone from being something that concerns other people around the world, to an issue that has now confronted us in our home ground. After seeing millions of people around the globe suffering from the effects of global warming, be it floods, hurricanes, or droughts, I think we can all agree that this is a dire issue that has been ignored for far too long, by far too many people.
As a country fortunate enough to be mostly insulated from natural disasters brought upon by climate change and global warming, Malaysians received a rude wake-up call last December, brought upon by the devastating flash floods that swept through the state of Johor. This catastrophe, which saw tens of thousands of our fellow Malaysians lose their homes, belongings and livelihoods, literally has brought the effects of global warming to our doorstep.
Despite repeated incidents like this playing out the world over, there are still many people, Malaysians included, who think that global warming is somebody else's problem. When reading about the threat posed by melting glaciers in the North Pole, they ask, "What does that have to do with me?"
Well, the stark reality is, it has everything to do with you and me. Case to point, local climate experts have opined that the rising temperature of the Indian Ocean was brought about by a series of events that started with the melting of ice in the Arctic, and is the likely cause of the unusual and adverse weather conditions in South-East Asia, such as the floods in Johor and most recently, in Jakarta.
Last week, something happened that roused the world out of its slumber, forcing everyone from governments, corporations, and individuals, to sit up and take notice.
The United Nation's Intergovernmental Panel on Climate Change (IPCC), the foremost authority on global warming, released a landmark study, revealing that the world is at a tipping point, meaning we're literally staring at the face of unmitigated disaster.
Imagine this. We are facing a rise in temperature of 1 to 3 degrees Celsius this century. What does that mean? Effectively, it means that humanity is sitting on a ticking time bomb. If the vast majority of the world's scientists are right, we have just ten years to avert major catastrophes that could send our entire planet into a tail-spin of epic destruction involving extreme weather, floods, droughts, epidemics and killer heat waves, beyond anything we have ever experienced.
Another key finding showed that human activity was the "most likely" (a probability of over 90%) cause of most of the warming in the last 50 years. This finding has powerful implications. It means now, we can no longer flatly blame natural disasters on 'natural' causes or on God's will. Instead it is time we took a long hard look at our role in this environmental crisis.
As my daughter Ruth put it, this is no longer an issue of global warming, but an issue of global heating; it's as if we're sleeping on a bed of fire and not even reacting to it.
YTL's commitment to the environment
This leads us to the reason we are all here today, the announcement of Climate Change Week that will be from March 6 to 9 this year. It is a truly important milestone for the YTL Group, as we've been long involved in environmental protection. We have some truly exciting and thought-provoking events planned, but I'll leave it to my daughter Ruth to tell you more about them shortly, especially since she'll be talking about a very important book entitled "Cut Carbons, Grow Profits" , which she co-edited with Dr. Kenny Tang of Oxbridge Climate Capital.
Sustainable development is a topic that is very close to my heart, thus it has been a core issue at YTL for many years now. It is not a "cause" that we simply adopted, but instead a commitment that hinges on our responsibility as one of the leading infrastructure conglomerates in Asia.
As a responsible corporate citizen, we strongly believe that environmental protection is a moral issue, not a political one, a sentiment profoundly stated by former US vice-president Al Gore. Going further, we feel that the environment is an ethical responsibility, hence our long term commitment and passionate involvement in its conservation through the years.
As a self-professed tree-hugger and 'greenie', I would like to share with you some of the major initiatives that YTL has been undertaking across the Group to cut carbon emissions, conserve energy, and protect natural resources.

In the area of energy and resource conservation:
a) Water and sewage services
Wessex Water, one of our subsidiaries in the UK, operates under stringent environmental directives and regulations, with a key long-term goal of becoming a sustainable water company. Its success in meeting compliance rates for drinking water, sewage treatment and bathing water have placed it amongst the best in the United Kingdom. It has also been recognised by the water industry regulator Ofwat as the most efficient operator in England and Wales, for its advanced treatment techniques, automation, and state-of-the-art control monitoring systems that ensure consistently high standards at a low cost.
b) Power Generation
Through YTL Power, the first independent power producer in Malaysia, we ensured from the outset that our gas fuelled, combined cycle power plants would not cause environmental damage. Our power stations have been specific design features such as a water cooling system that features hot water discharge pipes that extend 10% further than required in the engineering by-laws, so that elevated sea water temperature would have a minimum impact on marine life. Another specific design feature is the burners of the gas turbines which produce very low NOx levels during operation thus minimizing emissions into the atmosphere.
We were also championing the change of the Malaysian government's fuel policy from heavy usage of coal and crude oil, to the alternative of clean fuel like natural gas.
c) Express Rail Link
As a major shareholder of Express Rail Link Sdn Bhd (ERLSB), a railway development company that financed, designed, constructed and operates the KLIA Ekspres and KLIA Transit. In order to ensure environmentally friendly operations, our fleet of 12 state-of-the-art, high-speed trains have no direct emissions of pollutants and have "built in" energy savings by design.
There is also an Energy Saving Programme where drivers are trained to operate the trains with efficiency in mind. This programme was able to reduce the energy cost per trip from RM65.59 in 2003 to RM62.11 in 2005, translating into a total saving of approximately RM300,000 that year. A Building Facilities Energy Saving Programme has also been launched, with targets to achieve savings of RM100,000 per year in energy costs by modifying the existing installations. This project has also prevented carbon emissions equivalent to hundred thousands of cars on the road.
In the area of nature conservation:
a) Hotel Development & Management
The importance of preserving the natural environment has also been the key to the design of our hotels and resorts, particularly at our Pangkor Laut, Tanjong Jara and Cameron Highlands resorts. Serious efforts have been made to ensure the development of the resort integrates environmental aspects into the design, including the types of building materials used, location of the buildings, forest conservation, sustainability and waste disposal. Apart from faithfully protecting the Pangkor Laut rainforest that are millions of years old, we have on-site ecologists who dedicate their time to researching the biodiversity and ecology of the rainforest, wildlife and marine life, as well as running educational tours for visitors.
b) Homes
In our Sentul project, we decided to maintain a 35-acre green lung in the heart of Kuala Lumpur, to improve the residents' quality of life, a move that has been adopted in all current residential property developments, such as Lake Edge in Puchong, Lake Fields in Sungei Besi and Pantai Hillpark. In order to maintain a balance between nature and development, we have reduced the number of units, and have adopted building and design techniques that make the most of natural sunlight and improve airflow, thus reducing the need for artificial light and air-conditioners.
Re-examining the role of corporate citizens
Apart from our commitment to running environmentally sound operations across the YTL Group, there is another area that I feel is crucial to the promotion of environmental protection, that is, advocacy.
As business leaders, I mentioned earlier an ethical obligation that we face to be part of the solution. As business leaders, we have great opportunity to use our positions, influence, and connections to affect changes at a higher level, including policy decisions and enabling important conservation efforts within and beyond our borders.
I have always felt that we have a personal responsibility to get involved where possible, especially since we have received a bounty of God's blessings over the years, especially seeing how we were fortunate to have prospered from a small construction company to an infrastructure conglomerate with reach across the globe. I am proud to serve in several non-profit organisations that make this possible, namely The Nature Conservancy (TNC) and the International Business Leaders Forum (IBLF).
As a long time member of TNC, one of the largest conservation groups in the world committed to protecting nature's most precious ecosystems, I have the privilege of working alongside people like Henry M. Paulson, Jr., the current US Treasury Secretary, to strategise, build partnerships and projects, as well as open doors to resources. In fact, YTL recently donated USD500,000 to support conservation efforts on forest protection and on coral reef conservation in South East Asia, primarily Indonesia.
And just over a month ago, I was invited to sit on IBLF's International Advisory Board, alongside James Wolfensohn, former President of the World Bank and John Browne, BP Chief Executive. Apart from being immensely honoured to work with such luminaries, I was particularly excited because this role allows me to champion responsible business in developing economies. With financial incentives to prevent further environmental degradation, I truly hope to convince these nations that saving the environment not only makes good common sense, but good economic sense as well.
My involvement with both these fine organisations has been tremendously eye-opening, as I've seen what can be achieved when like-minded parties work together for a solution to global warming. In fact, when I attended the 2006 Clinton Global Initiative (CGI) in New York, an annual meeting of top leaders to work on issues such as Energy and Climate Change, my confidence and hope was bolstered in seeing the progress being made.
But, the stark reality is that we have barely tapped the surface in terms of what needs to be done by countries the world over.
Following the Clinton Global Initiative, I was honoured to be invited by CNBC to discuss the effects, solutions and business of climate change, alongside a top panel of experts including Jeffery Sachs, Dean of Columbia University's Earth Institute, and Professor James Hansen of NASA's Goddard Institute, considered the world's leading expert on global warming.
The consensus was simple - the world has to act now because, let me assure you, the cost of not acting will be devastating for current and future generations. To highlight a frightening implication, if temperatures rise by a mere one degree Celsius, we'll see rising sea levels of a few metres, not centimetres. Simply put, coastal cities like Shanghai, New York, London, and Tokyo, will be submerged in water. It is unthinkable to imagine the loss of life, as well as economic implications.
This brings us to the immediate question at hand – what can we do now to address global warming?
The solution, by consensus of the world's most foremost experts, is carbon tax. In essence, it mus
Back