Thailand cuts back on rice subsidy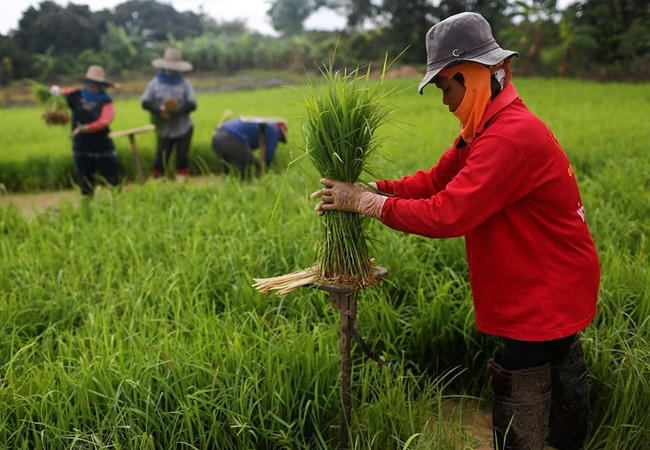 Straits Times, June 20, 2013
BANGKOK - Rice shipments from Thailand, the world's second-biggest exporter, are set to increase after the government reduced the price paid to farmers to rein in spending, according to the Thai Rice Exporters Association (Trea).
The move will relieve pressure on the state budget, but still leave Thai grain significantly more expensive than that of its rivals.
Sales may total seven million tonnes this year and eight million tonnes in 2014, said Trea honorary president Chookiat Ophaswongse. His previous forecast was six million to 6.5 million tonnes for this year.
The Cabinet yesterday approved a 20 per cent reduction in support prices for the country's top variety of unmilled white rice, to 12,000 baht (S$484) a tonne from 15,000 baht a tonne, said government spokesman Pakdiharn Himathongkham.
Rice purchases will be limited to 500,000 baht per family starting from June 20, while the reduction in prices will be effective from June 30 to Sept 15, said Mr Pakdiharn. Rates of other unmilled white varieties will also be reduced by 20 per cent.
That cuts the price of the 5 per cent white rice type to 11,840 baht a tonne, according to the government statement.
It was not clear if the same price would apply to the new crop year starting in October.
Thailand has paid farmers as much as 50 per cent more than domestic market rates since October 2011 to boost incomes. About 588.7 billion baht has been spent to buy 27 million tonnes of milled rice, equivalent to 70 per cent of annual global imports.
"The reduction in support will make Thai rice cheaper on international markets, boost exports and put pressure on world prices," Mr Chookiat said in a phone interview yesterday.
"The extent of the increase in shipments will depend on the reaction from Vietnam and India, which could lower prices to compete with Thailand."
Thailand's 5 per cent white rice dropped 8.9 per cent this year to US$532 (S$663) a tonne last week, the lowest since January last year, according to association data. The rate fell on speculation that the support price would be cut and on increased supply from India and Vietnam. Rice of the same grade was quoted at US$445 a tonne from India and at US$370 from Vietnam, association figures show.
The National Rice Policy Committee will consider support prices in the range of 12,000 baht to 13,000 baht for 2013/2014, said Commerce Minister Boonsong Teriyapirom.
"The revision is not because the government doesn't have enough money," Mr Boonsong told reporters on Tuesday. "We want to be responsible for fiscal discipline and the programme shouldn't carry losses of more than 100 billion baht a year."
Government spokesman Warathep Rattanakorn said yesterday that the changes were in response to public criticism over the mounting losses suffered by the state budget because of the subsidy programme, a flagship policy of Prime Minister Yingluck Shinawatra's government to woo support from Thai farmers.
The losses, officially estimated at 136 billion baht for the 2011/2012 crop year, led to a warning from Moody's rating agency.
But exporters doubted the cut would help them regain their spot as the world's top rice exporter, lost when the original intervention price made Thai rice about 50 per cent more expensive than grain from rivals like India and Vietnam.
"Exports are unlikely to revive immediately. The lower intervention price is unlikely to bring Thai offer prices closer to India and Vietnam," said Mr Chookiat.
Meanwhile, Thai Farmers and Agriculturists Association president Vichien Puanglamchiak said yesterday that the price cut is unacceptable, and will affect farmers across the country.
The association will submit a letter of protest to the government and may organise a demonstration, he added.
Back