Julio Iglesias Set To Perform For YTL's Concert Of Celebration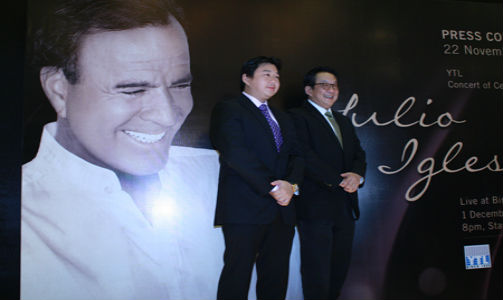 Kuala Lumpur, 22 November 2011
To celebrate the new cutting edge look of Starhill Gallery, YTL Corporation Berhad's signature event, also known as the Concert of Celebration will be held on the streets of Jalan Bukit Bintang with a celebrity performance by the legendary Julio Iglesias on December 1st. A Grammy Award winner whose career has enjoyed worldwide success, from selling 300 million records worldwide in 14 languages to releasing 77 albums, Julio is set to mesmerise when he croons his hit singles to the audience.
Tan Sri Dato' (Dr.) Francis Yeoh, Group Managing Director of YTL Corporation Berhad said, "This Concert of Celebration is particularly special because we are celebrating a milestone in Starhill Gallery's development. And of course, to give thanks to our Lord for the privilege of having stewardship over this prized asset."
"The concert will cast light on the impressive new architectural façade of Starhill Gallery and not least, on the many stylish and globally renowned luxury fashion brands that are now being housed exclusively within."
The aforementioned façade is an architectural masterpiece built using cutting edge glass technology and lightweight steel. The iconic new look was brought to life by a team of famous architects and designers from Malaysia, Singapore, Japan, USA, France, Italy, England and Germany.
"We are very excited that with this concert, we can literally celebrate Starhill Gallery's innovative transformation with everyone. Julio is a legend! He is going to light up the entire Bukit Bintang, which will become a massive concert venue for an evening. This will be our 'Big Thank You!', especially to all associated with Bukit Bintang, for the many years of kind support and good will shown to YTL," added Tan Sri Francis.
YTL, a well established and passionate advocate of the Arts, has featured some of the most prominent artistes in the world in the Company's Concert of Celebration series. This includes the memorable and last ever Three Tenors Concert at World Heritage City, Bath, back in 2003 and popular tenor Russell Watson's performance in Sentul Park, Kuala Lumpur in 2005. Last year, Andrea Bocelli thrilled an audience in Singapore's Botanic Gardens alongside Slovenian soprano Sabina Cvilak, world-renowned flautist Andrea Griminelli and popular Australian singer Delta Goodrem.
On December 1st, concert-goers will have an entire stretch of Jalan Bukit Bintang to themselves, which will be closed for the concert. In keeping with YTL's philosophy of sharing the gift of music with the community, fans and music lovers alike can win tickets to the concert by registering on Starhill Gallery's website: www.starhillgallery.com.
On that evening, YTL will also be positioning big screens all over Jalan Bukit Bintang to allow the general public to enjoy the performance.  
"I want to say 'All the Best!' to everyone registering to win tickets. But even if you don't win them, come to Bukit Bintang anyway! You will be able to hear Julio sing wherever you are in the vicinity and may even catch a glimpse of the man himself," said Tan Sri Francis.
On the upcoming concert, Julio Iglesias commented, "I am very happy YTL is hosting this Concert of Celebration. I enjoyed myself throughout my few visits to Malaysia and was made to feel very special by my fans. I love them and cannot wait to perform again in Kuala Lumpur."
GALLERY RE-LAUNCH ANNOUNCEMENT
PRESS CONFERENCE AT SHOOK! STAGE, FEAST VILLAGE – 22 NOVEMBER 2011
SPEECH BY TAN SRI DR FRANCIS YEOH, CBE
MANAGING DIRECTOR,
YTL CORPORATION BERHAD 
Good morning ladies and gentlemen, and respected members of the media. Thank you for joining us at this Press Conference.
We invited you to share exciting news about Starhill Gallery and its recent transformation.
Starhill Gallery will be officially re-launched at a Press Conference on 1 December 2011at 3.00 pm. It will be graced by DYMM Mulia Seri Paduka Baginda Yang di-Pertuan Agong and DYMM Seri Paduka Baginda Raja Permaisuri Agong – in the company of the legendary Grammy Award winner, Julio Iglesias.
It is an occasion for celebration as the new façade of Starhill Gallery is the first of its kind in Malaysia, constructed using lightweight steel and state-of-the-art glass technology used for the Pyramid at the Louvre in Paris. It is designed by renowned architect, Sparch.
In 1999, when YTL  made its presence here, Bukit Bintang had a rather notorious reputation. 
The first thing we did was to work with the government to clean up the area.
We started by conceptualising "Bintang Walk" and designating it as the city's first ever pedestrian walk way.
We invested much and lit the place up and tree lined the walk and steadily cleared away the debris of society. In place of its seedy alleys we opened brightly lit cafes and colourful and exciting shop windows.
"Every great City needs an Icon. Like Paris has its Champs d'Elysee, London its Bond Street and Tokyo, its Ginza "Bintang Walk" was therefore created by us for Kuala Lumpur. 
The Walk  stretches from the iconic Starhill Gallery flanked by luxury hotels like JW Marriott and The Ritz-Carlton, to Kuala Lumpur's  first modern premier shopping mall, LOT 10.
Before long, it was such a happening place that everyone wanted to be here! More and more shopping malls followed, including high-end residential developments and now even inducing government  investments  in developing Bukit Bintang-KLCC as the premier shopping precinct competing against other global best shopping districts.
As I speak, cranes and heavy machinery are ubiquitous in Bintang Walk busily being employed  to enhance KL's busiest  Monorail Station at Lot 10, Covered Elevated Pedestrian Walks from KLCC to Bukit  Bintang and along Bintang Walk, and also preliminary works for Bukit Bintang's Mass Transit Station. All these activities will further increase Bintang Walk's  footfall.
 
Today Bintang Walk attracts a footfall of  40 million. YTL is truly blessed to have played an important part in its genesis.
The Government's quick response to YTL's  recommendations to remove custom duties on branded goods in 1999 was also the other reason that make global retailers flock to our shopping centers in Bintang Walk.
It is therefore appropriate to celebrate the genesis of Bintang Walk and the rebirth of Starhill Gallery with a thanksgiving concert.
This is the 4th YTL Concert of Celebration at Bintang Walk. As you can see, we have never  stopped reinvesting in the transformation of Bintang  Walk.
This year we will present  the singing legend Julio Inglesias  right here on the streets of Bintang Walk with a Live Concert on 1 December 2011 at 8.00 pm.
This  concert is to thank God for His blessings for the rebirth of Starhill Gallery in particular and also to thank everyone who has made Bintang Walk a success. Without the patronage of the public at large, shopping malls  in  Bintang Walk would not have prospered. 
This concert is therefore offered free to the public like all our previous three concerts.
As a tradition in all our concerts some seats will be allocated to the public. This will be done through public balloting on a first- come first- served basis.
Details of the public balloting is available at starhillgallery.com Please register as soon as you can and  join YTL in this exciting event in the heart of KL.
I look forward very much to welcoming you to this concert on the 1st of December evening.
Thank you and God bless.
Back