Andrea Bocelli brings music to life at YTL's Concert of Celebration 2010
Singapore, May 9, 2010
It was a magical night at the Singapore Botanic Gardens as more than 12, 000 people gathered for the YTL Concert of Celebration 2010.
Featuring world-renowned Italian tenor, Andrea Bocelli. The concert was conceived to share the YTL values of friendship, celebration and love for God and fellow mankind with the Singaporean people.
Audience overflowed from the gardens' Swan Lake to the adjacent Palm Valley Lawns enjoying the night of entertainment in the picturesque surroundings of one of Singapore's iconic landmarks.

For two weeks as various crew from around the world worked on the set up for the event, many park visitors dropped by the site to see the stage take shape.
The people in Singapore have been eagerly awaiting the concert as online balloting for free tickets before this had been oversubscribed twenty-fold.

The highly popular Concert of Celebration is a series of world-class concerts organised in celebration of the YTL's major milestones and achievements. Since 1994, YTL has chosen to celebrate their achievements every year with a classical music concert for all to enjoy. YTL's annual Concert of Celebration has been their way of sharing the magical quality of music with the community and part of their spiritual endeavour and thanksgiving to God for all His blessings.
A strong supporter of the arts, YTL's series of concerts have featured some of the most prominent artistes in the world. In 2003, the Three Tenors - Jose Carreras, Placido Domingo and the late Luciano Pavarotti - performed against the backdrop of World Heritage City, Bath, to a live audience of over 40,000.
YTL's 50th anniversary celebrations in 2005 saw a free outdoor concert featuring popular classical crossover tenor Russell Watson, accompanied by the Adelaide Symphony Orchestra, in Sentul Park, Kuala Lumpur, Malaysia.
The outdoor concert featured Andrea Bocelli, with special guests – Slovenian soprano Sabina Cvilak, world-renowned flautist Andrea Griminelli and popular Australian singer Delta Goodrem, accompanied by the Singapore Philharmonic Orchestra and Philharmonic Chamber Choir, conducted by Eugene Kohn.
Since its inception in 1955, YTL Corporation has grown into a multi-disciplinary conglomerate with global businesses spanning three continents.
Singapore has been chosen as the venue of this year's YTL Concert of Celebration as a number of YTL's successful business operations are based here. In Singapore, YTL's presence grew through a number of successful investments that included PowerSeraya, YTL's flagship investment in Singapore's energy market,
Starhill Reit with ownership in Wisma Atria and Ngee Ann City and real estate developments Sandy Island and Kasara – the Lake on Sentosa Cove – as well as Westwood Apartments on Orchard Boulevard.

Through the power of music and the emotional expressions of this amazing event in Singapore, enduring friendships that have been forged and bonds between Malaysia and Singapore have been reinforced.

Guests were touched by Tan Sri (Dr) Francis Yeoh's profession of God's grace and goodness as he gave his speech during the evening giving praise and glory to God for the achievements and success of YTL thus far.

Guest of honour for the evening were His Excellency President SR Nathan, President of the Republic of Singapore, and Mrs Nathan. Other VIP guest included Madam Ho Ching, CEO of Temasek Holdings and Mr Mah Bow Tan, Minister for National Development.
During the evening, Community Chest was chosen as the charity partner of YTL for this spectacular event where YTL made a donation to Community Chest which will go towards supporting critical social service programmes, under the care of Community Chest.

Andrea Bocelli opened the show with a powerful performance in the first set which left the crowed eagerly waiting for more. Performing songs from Puccini and the crowd favourite, Brandisi, Bocelli opened the second set with a glorious tribute to Mothers with the song Mamma. Bocelli's stellar performance touched hearts and moved many in the audience. The crowd couldn't get enough of Bocelli and the maestro looked like he was equally enjoying himself on stage. Andrea Griminelli who is no stranger to YTL Concerts delivered a breathtaking performance of Gabriel's Oboe and the crowd went wild with delight after hearing his performance of Flight of the Bumblebee.
Bocelli performed seven encores and received a massive standing ovation as he returned to sing Can't Help Falling in Love and The Prayer together with Delta Goodrem before moving into his famous closing song Con te partirò with Sabina Cvilak. In a surprise ending, Bocelli performed Nessun Dorma – a particular favourite of Tan Sri (Dr) Francis Yeoh.

In a grand display of celebration typical of the YTL style, amazing fireworks completed the show and the crowd erupted into cheers as the night sky was illuminated with brilliant sparks of light.

Walking home for the evening, an Italian couple spoke about the concert in the park saying, "Musica è la vita. La musica e' tutt'intorno a noi, tutto quello che devi fare e' ascoltare." (Music is life! Music is all around us, all you have to do is listen.)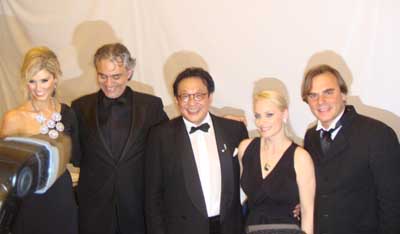 Before the concert Andrea Bocelli said, "It is a great honour to be given this opportunity by my long-time friend, Francis Yeoh, to perform for Singaporeans as part of YTL's tradition of thanksgiving to God and the local communities. It is also a gratifying experience to do my part for charity in Singapore with the gift of my voice."

YTL also organised a special after concert dinner where singers Stephen Rahman Hughes, Wayne Perrey and Oliver Tompsett performed "Can You Feel The Love Tonight", which Bocelli thoroughly enjoyed.

"I love my friend Francis very much and so I'm doing this for him. I can feel the love of Francis for me and the love of the people of Singapore and it was a pleasure to sing for them... Francis is a genius!" said Bocelli in an interview.
Text of speech by Tan Sri Francis Yeoh
YTL Concert of Celebration
Botanical Gardens Singapore
8th May 2010
I am grateful to our Lord Jesus Christ for granting us the privilege to bless the people of Singapore with this evening's YTL Concert of Celebration.

I am also joyful to welcome many men and women of the cloth here with us.

And to all of you here in this beautiful Botanic Gardens, Good Evening!

YTL has been overwhelmingly blessed. We have been given stewardship of very precious Singaporean assets in PowerSeraya Limited, Starhill Global REIT and Westwood Apartments in Orchard Boulevard. We have also been given the wonderful opportunity to develop Sandy Island and Kasara in Sentosa Cove.

The renowned Oxford University philosopher and novelist, C.S. Lewis observed that all enjoyment spontaneously overflows into praise. We spontaneously praise whatever we value, and we delight to praise what we enjoy because it completes the enjoyment. The more value we place on an object, the more praise we would accord it. Therefore, the Lord should be the centre of our praise as He is our most valuable.

For this reason, this evening, instead of praising our own achievements, we give our Lord Jesus Christ all glory, honour, praise and thanks. All goodness comes from the Lord and He is the primary reason for this YTL Concert of Celebration.
Naturally, I am humbled to be in the presence of noble men and women who have individually and collectively contributed to the building of this beautiful country. It is truly an honour to have in our midst His Excellency Mr. S.R. Nathan and Mrs Nathan.

I am also mindful of those who are not with us this evening. The Prime Minister of Singapore, Mr. Lee Hsien Loong, Senior Minister Mr. Goh Chok Tong and of course, the father of this nation, the venerable Minister Mentor Mr. Lee Kuan Yew.


Through integrity, dignity, courage and determination, noble men and women, led by Minister Mentor Lee, transformed Singapore from relative obscurity into becoming the global beacon of good governance, enterprise and peace. The world loves doing business in Singapore because it upholds the rule of law, welcomes talents and skills, and excels in acceptance and tolerance.

It remains awe-inspiring that Minister Mentor Lee wore power lightly and successfully passed down his remarkable legacy, first to Senior Minister Goh, and now to Prime Minister Lee. Minister Mentor Lee's extraordinary statesmanship is in itself, a light and a beacon, which continues to inspire the world all around.
Darkness is the absence of light, whilst light is not the absence of darkness. Light is an entity, darkness is not. With the near global economic Armageddon in 2008, it feels like one-half of the world is seeking advice from the other half, but both are sitting in the same darkness. Which is why, I am ever so glad that Singapore is different. It enjoys and thrives in being a light.

Let me salute Prime Minister Lee and the Government of Singapore for remaining resolute and steadfast in reflecting this Minister Mentor Lee's enlightening legacy of courageous moral leadership. It is a much desired and necessary alternative to a global mindset characterised by greed, selfishness and lack of accountability. A world that worships the myopism of short-termism.

YTL has a long term perspective on all business investments and dealings. That is why we appreciate the commercial climate of Singapore and enjoy investing in this economy. YTL is committed to play its humble role in contributing positively to this country's nation-building and to the wellbeing of the Singaporean people.
Distinguished Guests, Ladies and Gentlemen,

As beneficiaries of this important legacy, including the wonderful hospitality and good will of the people of Singapore, YTL honours you with beautiful songs and music from my dear friend Andrea Bocelli and the other renowned artists we have invited.

True friends are indeed gifts of God. Andrea bended backwards to make this concert possible, in spite of his very hectic touring schedule. Thank you, Andrea! You are not only my true friend, but you are a true friend of Singapore.

Of course, we could not have imagined a more ideal setting than at the very heart of this beautiful Botanic Gardens. That too, we are very thankful for, especially to Mrs Christina Ong, Chairman of the National Parks Board and to Mr Ng Lang, the CEO and also to Dr. Chin See Chung, the Principal Botanist (originally a fellow Malaysian, but now an Australian and working in Singapore).

It is our humble prayer that the Lord continues to prosper this beautiful country and bless the people of Singapore with His love and peace!

Thank you and God be with you.

Speech by YTL Group Managing Director
Tan Sri Dato' (Dr) Francis Yeoh Sock Ping
YTL Concert of Celebration
Botanical Gardens Singapore
8th May 2010
Back