Prime Minister launches YTL's establishment of 4G Innovation Network in Malaysia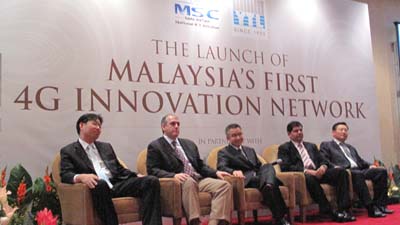 Kuala Lumpur, November 10, 2009
YTL Communications Sdn Bhd today announced the formation of a 4G Innovation Network (The Network) in Malaysia in cooperation with some of the preeminent players in technology, including: Cisco, Clearwire, GCT and SAMSUNG. High-ranking executives from each participating company marked the official start of the initiative during a ceremony at the Putrajaya International Convention Centre in Kuala Lumpur witnessed by the Honourable Prime Minister of Malaysia Y.A.B Dato' Sri Mohd Najib Bin Tun Haji Abdul Razak.
The effort will connect the best minds in Silicon Valley with developers in Malaysia to create exciting new applications for YTL's Nationwide 4G Service while establishing the Country as a Regional Centre of Excellence for 4G Innovation.
"YTL Communications is proud to take a leadership role amidst this prestigious group and is equally proud of Malaysia for having what it takes to attract interest and commitment from top players in technology," said YTL Group Managing Director Tan Sri Dato' (Dr) Francis Yeoh Sock Ping, CBE, FICE. "Together, we will help to advance the country's mission to become a truly innovation-led economy as well as YTL's mission to provide affordable, world-class quality products and services that improve the way people in Malaysia live, learn, work and play."
YTL Communications Chief Executive Officer Wing K. Lee added, "The Innovation Network will facilitate the development of applications that are optimised specifically for a high bandwidth 4G network and which will give people in Malaysia a truly connected lifestyle and new levels of communication freedom."
The Network is being established to facilitate the deployment of a nationwide 4G service in Malaysia that will offer a high-fidelity Internet experience to people across the country by the end of 2010. To achieve this, the Network will be linked with Clearwire's Innovation Network in Silicon Valley to facilitate a free flow of ideas and information across borders.
Importantly, developers worldwide will have the chance to commercialise their work on a national scale in Malaysia.
"The 4G Innovation Network in Malaysia will expand the 4G ecosystem by linking Malaysian and other Asian developers directly with some of the world's most creative minds in Silicon Valley, with whom they can share ideas while testing services designed to enhance the 4G mobile Internet experience," said Ali Tabassi, senior vice president, global ecosystem and standards for Clearwire. "Expanding the Innovation Network to Malaysia helps to fulfil our goals of changing the way people access the Internet and providing new opportunities for mobile applications."
With support from Cisco, a groundbreaking interoperability-testing centre (IOT) at Sentul Park is being built to help position the country as a regional hub of technology innovation. In addition to the IOT, this unique, state-of-the-art complex set on a 300-acre site also will house a network operations center and datacenter which will open in early 2010.
"Using personal WiMAX mobile devices over YTL Communications' extensive 4G network will allow Malaysians in both urban and rural areas to live the connected life and enjoy converged services," said Mr. Wim Elfrink, Executive Vice President, Cisco Services, and Chief Globalization Officer, Cisco. "This relationship highlights Cisco's ability to innovate and provide new business models to cater to the diverse needs of customers worldwide."
"We're very pleased that WiMAX has become the next generation of mobile communication technology in Asia," said Woonsub Kim, executive vice president and head of the Telecommunication Systems Division, Samsung Electronics. "As a leading Mobile WiMAX provider, Samsung plans to further contribute to the expansion and maturity of Mobile WiMAX systems around the globe."
"We look forward to bringing our expertise to The 4G Innovation Network and empowering YTL to further advance its 4G wireless services in Malaysia," said Kyeongho "KH" Lee, CEO of GCT Semiconductor. "We believe this partnership will offer an excellent platform to share ideas and accelerate application development for the promise of 4G."
About YTL Communications Sdn Bhd
YTL Communications Sdn Bhd is a subsidiary and the communications utility of YTL Power International Berhad (YTL Power International). The Company has approval from the Malaysian Communications and Multimedia Commission (MCMC) to operate a 2.3 GHz WiMAX wireless broadband network in Malaysia and intends to use this privilege to provide affordable, world-class services that improve the lives of people across Malaysia.
Financial backing from YTL Power International and technological know-how from strategic, best-in-breed partners including: Cisco, Clearwire, GCT and Samsung, will position YTL Communications as a leading player in the telecommunications industry and will lay the foundation for the roll out of a nationwide wireless broadband network by late 2010. As a responsible corporate citizen, YTL Communications is committed to bridging the digital divide between the urban and rural communities, improving the quality of life, and supporting efforts to promote technological innovation.
About YTL Power International
YTL Power International is a utility group active across key segments of the utility industry worldwide. Headquartered in Malaysia and listed on Bursa Malaysia (market capitalization RM12.9 billion (USD 3.8 billion) as at 31 October 2009), it operates in Malaysia, the United Kingdom, Singapore, Australia and Indonesia. Its core businesses include: power generation, retail and transmission, water and sewerage services. YTL Communications represents YTL Power International's first investment in the communications business. YTL Power International is a subsidiary of YTL Corporation Berhad ("YTL Corporation").
About YTL Corporation
YTL Corporation Berhad is one of the largest companies listed on the Bursa Malaysia, and together with its five listed entities has a combined market capitalization of about RM30.8 billion (USD9.1 billion) as at 31 October 2009, and total assets of over RM45 billion (USD13 billion). The company was listed in 1985, and has also had a secondary listing on the Tokyo Stock Exchange since 1996, being the first Asian (non-Japanese) company to be listed on the Tokyo Stock Exchange. YTL Corporation is an integrated infrastructure developer with interests in construction, power generation (in both contracted and merchant markets), cement manufacturing, water and sewerage services, property development, hotel development and management and information technology and e-commerce initiatives, serving over 12 million customers on three continents.
Signing Ceremony for the 4G Innovation Network in Malaysia
Remarks by Yang Berhormat Dato' Sri Mohd Najib Bin Tun Haji Abdul Razak
The Prime Minister of Malaysia
As we've discussed during the IAP sessions this week, a continued focus on technological innovation will help pave the path to prosperity for future generations.
This is not just a good sound bite.
The World Bank reported this past June that every 10% increase in Internet connectivity increases a country's GDP by 1.3%.
And according to the Brookings Institution, each percentage point of broadband adoption adds roughly 293,000 private sector jobs a year to the US economy.
The captains of industry gathered here today believe the impact to Malaysia could be even greater and I agree.
YTL's commitment to this important programme (the 4G Innovation Network) will help to drive a new wave of innovation, job creation and investment in Malaysia. With 4G/WiMAX – the most advanced wireless technology available – our citizens will be amongst the first in the world to enjoy all that the Internet has to offer. From anywhere they are.
Imagine the increase in productivity of employees who are able to connect to the Internet while riding in the bus to the office. Or the advantage we can give our students through dynamic e-learning opportunities. With the high bandwidth and low latency of 4G mobile networks, and the creativity that will be spurred by the Innovation Network, the possibilities are endless.
The government highly supports this endeavour and I look forward to seeing the inventions that come out of this global effort and thank YTL and its esteemed partners for helping to reduce the digital divide and enrich the lives of people across Malaysia.

------------------------------------------
YTL Communications
Signing Ceremony for the
Establishment of a 4G Innovation Network in Malaysia
10 November 2009
Speech by
YTL Group Managing Director
Tan Sri Dato' (Dr) Francis Yeoh Sock Ping

OUR GUEST OF HONOUR, YANG AMAT BERHORMAT DATO' SRI NAJIB BIN TUN HAJI ABDUL RAZAK, THE PRIME MINISTER OF MALAYSIA,
HONOURABLE MINISTERS,
DISTINGUISHED GUESTS,
MEMBERS OF THE MEDIA,
LADIES AND GENTLEMEN
Good afternoon.
I can imagine no better time to bring this esteemed group together to mark a groundbreaking new partnership than during the IAP meetings, where many of you have come to talk about what it takes to establish an innovation economy. Thank you for allowing us to cap your meetings with this ceremony and for your support of what promises to enhance the ongoing efforts of the MSC Malaysia and deliver on the promise of a truly innovation-led economy that leads to a better life for everyone in Malaysia.
Cisco.
Clearwire.
GCT.
SAMSUNG.
These companies exemplify the spirit of innovation and I am proud to welcome them here today as YTL Communications' partners in the development of a 4G Innovation Network that will help put Malaysia on a world stage and make it a Centre of Excellence for technological innovation.
Indeed, by establishing this platform on which developers from around the world can present, test and commercialize breakthrough inventions in content and devices delivered over a 4G network, Malaysia is setting an example for the region. We could not achieve this, however, without the expertise and guidance of these world-class partners.
Their involvement in this game-changing initiative speaks to the fact that Malaysia offers an attractive and favorable environment in which to do business. This is due in large part to the openness of our Prime Minister and his willingness to adopt global best practices and forge global partnerships, which has been commendable during his tenure.
Today, we continue YTL's tradition of innovation by bringing a Silicon Valley concept to Malaysia.
By leading this initiative, we hope to promote a new model of innovation where people worldwide can share ideas freely over our nationwide 4G network while creating products and services that improve the quality of life for communities in the rural areas while supporting the global aspirations of companies in the major cities.
We are confident that our leadership, combined with the strength of our proven partners, we can achieve these goals.
In addition, I am delighted to announce that YTL Communications will sponsor a global competition-the mY Prize-in 2010. A total of US $1 million will be awarded to help entrepreneurs and innovators realize their best ideas and then offer them to consumers on a nationwide level.
We hope this challenge will inspire the developers who take part in the 4G Innovation Network to develop exciting new products and services that can only be dreamed of today. More details will be shared in January.
In closing, the mobile Internet will increase GDP, improves healthcare, education, and communities everywhere.
The Malaysian Government has played a commendable role in pursuing the implementation of broadband and WiMAX throughout Malaysia to encourage more people to get online with broadband.
This goes hand in hand with the efforts to accelerate supply for local online content, such as the MSC Malaysia Integrated Content Development Programme, which provides grants to encourage local developers to produce mobile and online applications that can meet market requirements.
We thank them for their support of these efforts. Most of all Prime Minister, thank you for your presence here this afternoon, and for making this important initiative possible.
I pray that our Lord Jesus will bless this important initiative and God bless all of you.
Back