Tan Sri Francis Yeoh made Primus Inter Pares (First Among Equals) Honouree of the 2010 Oslo Business for Peace Award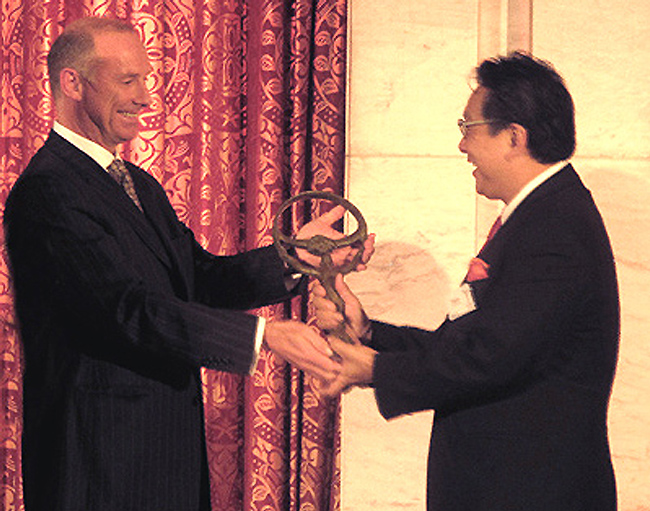 YTL Community News, October 25, 2010
Singapore, 20th October 2010: Having been conferred the 2010 Oslo Business for Peace Award – the highest distinction given to a business person for outstanding accomplishments in the area of ethical business - at the fourth annual Oslo Summit on Peace through Trade on Monday evening, Tan Sri (Dr) Francis Yeoh Sock Ping (Francis Yeoh), Managing Director of YTL was subsequently made primus inter pares (translated as 'First Among Equals') Honouree. This is the first time the honorary title was given to an Asian businessman. It recognises Francis Yeoh for his efforts in promoting peace through business and championing ethical and socially responsible business practices both at home and around the world.
"Under Francis Yeoh's stewardship, the YTL Corporation Berhad has grown from a single listed entity to become one of the largest corporations in Malaysia. While YTL's success clearly demonstrates business acumen of the highest order, it is Francis Yeoh's philosophy about how business should be conducted which has brought him honour," said Per Leif Saxegaard, Chairman of the Business for Peace Foundation.
As 'First Among Equals', he was selected by Nobel Laureates Professor Muhammad Yunus, Professor Wangari Muta Maathai and Professor A. Michael Spence and business leaders to represent the six other award honourees, including Ratan Tata, Chairman of Tata Group, and Stef Wertheimer, Honorary Chairman of Iscar Metalworking Company, to address the audience at the awards ceremony.
Emphasizing on the need for business to be "a force for good", Francis Yeoh encouraged companies to flee "short-termism" and avoid being driven by instant rewards, quick fixes and unethical gains. He also urged companies to adopt corporate social responsibility as part of corporate DNA, instead of mere expediency and gaining media exposure.
"I give all the honour and glory to my Lord Jesus Christ, the Prince of Peace, from Him I derive my passion and purpose to be the salt of the earth and a light of this world. I also wish to thank the Nobel Laureates and everyone associated with this Award for this incredibly humbling experience," Francis Yeoh said in his address to the audience.
Peers, colleagues and friends from across the globe have offered their congratulations.
Madam Ho Ching, Executive Director & Chief Executive Officer (CEO) of Temasek Holdings Pte Ltd said, "The award is recognition of Francis Yeoh's inspiring leadership, pioneering spirit and dedication to create a dynamic global business group respected not just in Malaysia but around the world."
In a congratulatory message, Henry Paulson, former United States Treasury Secretary and former Chairman & CEO of Goldman Sachs, and Wendy Paulson, Nature Conservancy Trustee, applaud his leadership in the environmental arena, "bringing attention to issues that affect the whole family of man and the planet, and giving support to initiatives that improve man's relationship to his natural surroundings."
Andrea Bocelli, Francis Yeoh's good friend and world renowned tenor said, "I have always believed my dear friend Francis is a genius who loves humanity. This award confirms it. I am so happy for him."
Under his visionary leadership, YTL has grown into an international conglomerate that pioneered numerous outstanding projects around the world, benefitting many communities, and creating positive social change. This will include the impending launch of the first ever nationwide 4G mobile internet network in Malaysia that will dramatically increase broadband penetration as well as help spur economic development.
With moral courage and determination as the foundation of his business, Francis Yeoh is a strong advocate of good governance and transparent regulatory framework in both global and national economies.

About YTL Corporation Berhad (Company No. 92647-H)
YTL Corporation Berhad (Company No. 92647-H) is one of the largest companies listed on the Bursa Malaysia (Stock Code: 4677, Bloomberg: YTLMK; Reuters: YTLS.KL). Together with its six listed subsidiaries, YTL Corporation has a combined market capitalisation of approximately RM34.3 billion (US$10.7 billion) as at 30 September 2010, and total assets of over RM45 billion (USD13.6 billion). The company was listed in 1985 with a secondary listing on the Tokyo Stock Exchange since 1996. YTL was the first Asian non-Japanese company to be listed on the Tokyo Stock Exchange.
YTL Corporation is an integrated infrastructure developer with core activities in power generation and transmission, ownership and management of water and sewerage facilities, cement manufacturing, construction contracting, property and hotel development and e-commerce initiatives. In addition to YTL Corporation Bhd, the other listed subsidiaries are as follows:
YTL Power International Bhd
YTL Cement Bhd
YTL Land & Development Bhd
YTL e-Solutions Bhd
Starhill Reit
Specific to Singapore's real estate and luxury space, YTL Corporation is the developer behind the villa collections on Sandy Island and Lakefront in Sentosa Cove, as well as the up and coming Westwood development on Orchard Boulevard. YTL Corporation acquired Macquarie Prime Reit in December 2008, which has since been renamed to Starhill Global Reit. It also announced the acquisitions of Temasek's controlling interest in PowerSeraya in December 2008.
Acceptance Speech by Tan Sri Francis Yeoh
First and foremost, allow me to give all honour and glory to my Lord Jesus Christ the Prince of Peace. From Him, I derive my purpose and passion to be a salt of the earth and a light of this world.
I also wish to thank the Nobel Laureates and everyone associated with this prestigious Award for this incredibly humbling experience.
In ancient times, salt is potent to generate growth as a fertiliser, but also to act as a disinfectant. Whilst light illuminates darkness.
I shudder to think that I deserve to be in the same room with distinguished men and women who have devoted their lives to shape and preserve the moral fabric of our world; and who walk in the light with considerable cost to their own wellbeing.
Which is why, I humbly salute the Nobel Laureates who embody the very best of our humanity.
I salute fellow Honourees of this Award, for 'your' moral courage and determination to bring dignity and hope to our world, using ethical business to transform mindsets and practices.
I also salute the many unsung heroes who champion positive change.
The world we live in worships short-termism. Our global economy is driven by instant rewards, quick fixes and unethical gains.
Political and business leaders know too little of sustainability, and lend themselves to gamble with our nations, societies and environment on an empty future.
Even the gatekeepers, the financial regulators, banking authorities, government watchdogs, those we trust to watch over us, were corrupted by short-term goals instead of long term visions.
We forget at our peril that the world was at the verge of an economic Armageddon in 2008. Had it been a total collapse of the global economy, not only would all our hard work be wiped out, its impact on the poor and disenfranchised would have been unimaginable.
But Ladies and Gentlemen, darkness is the absence of light. Not the other way around.
We always say that for this world there is still time. I disagree! I think our time is almost over.
For this reason, we desperately need good governance, the rule of law, and transparent regulatory framework in the global economy to rebuild trust and regain moral integrity. We must promote courageous and responsible leaders to high places.
And national governments will gain tremendously from following suit. Economics Nobel Laureate, Joseph Stiglitz said, "The present societal and economic problems are like festering wounds that can only be healed by exposing them to the antiseptic effects of sunlight.... We must restore the balance between the market and the state, between individualism and the community, between man and nature and between means and ends."
Such a balance would also allow 'good' companies to compete and thrive. It is certainly in this healthy business environment that YTL has been able to thrive most.
The world needs to make it a little easier to walk in the light!
On the same note, I encourage businesses to flee short-termism. Do more than adopt Corporate Social Responsibility for the sake of expediency and good PR. But grow it as part of the corporate DNA and culture. Ethical business and commercially profitability do not have to be mutually exclusive. I know my illustrious fellow Honourees in this room would agree with me.
YTL's own story is a testament of how we have been repeatedly rewarded by being a force for good.
Next month, YTL will be introducing in Malaysia, and for the first time in the world, the fourth generation 4G nationwide mobile internet network, with voice.
The internet is invented by the people and for the people. We are in the process of introducing a digital superhighway that will not only bridge the gap between urban and rural communities, but help unleash the talents and potential of Malaysians. By offering our network at a nominal cost, we will dramatically increase broadband penetration. We all know that a 10% increase in high-speed broadband penetration will lead to 1.3% increase in GDP.
We certainly hope to transplant this goodness globally.
Being a force for good is not a zero-sum game. Not being so is.

It is a zero-sum game that nearly 50% of the world's population – almost 3 billion people – live on less than $2 a day. That 840 million suffer from hunger.
It is a zero-sum game that 10 million children die every year from easily preventable diseases, that one billion people still lack access to sanitation, and one billion adults remaining illiterate.
It is a zero-sum game that the richest 20% of the world's population own 77% of the world's wealth while the poorest 20% own 1.4%.
And it is a zero-sum game to allow evil to triumph and for good men and women to sit back and do nothing.
I thank the Lord that this day, in this room, we have movers and shakers who love humanity and have given themselves to the good of others.
I am incredibly humbled yet uplifted to be here with all of you and to say, with dignity and courage that we are not in the zero-sum game.
Once again, thank you for this profoundly meaningful accolade.

Thank you and God bless all of you.

Speech by Tan Sri (Dr) Francis Yeoh
Managing Director of YTL Corp
The Oslo Business for Peace Award
Oslo, Norway
18 October 2010
Back