Tesco turns to solar in Paris climate accord pledge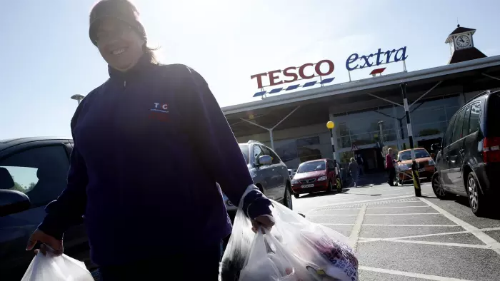 FT, May 14, 2017
By Pilita Clark & Mark Vandevelde
Tesco is to turn its back on fossil fuels and ramp up its use of solar panels as the UK supermarket makes an ambitious pledge to cut its greenhouse gas emissions in line with the toughest goals of the Paris climate accord.
The move by the world's fifth largest grocery chain by sales comes as US president, Donald Trump, considers pulling the US out of the landmark UN climate deal that almost every country adopted in December 2015.
Tesco says its decision demonstrates its support for an agreement that represents "the strongest hope that we can avoid dangerous climate change", a sentiment backed by dozens of other large companies urging Mr Trump to stay in the deal.
Average global temperatures have already risen by nearly 1C since the use of fossil fuels such as coal began rising after the industrial revolution, boosting climate-warming greenhouse gas pollution.
The Paris agreement aims to curb countries' emissions enough to keep warming well below 2C from pre-industrial times and, if possible, only 1.5C.
Tesco says it will cut its emissions in line with the more ambitious 1.5C target, partly by securing 100 per cent of its electricity from renewable sources such as solar panels by 2030 and by pushing its suppliers to become greener.
That marks a first, said Myles McCarthy, director of implementation at the UK's Carbon Trust, which advises companies on how to meet so-called science-based targets or emissions cuts matching what is needed to curb rising temperatures.
"At a time when government commitments on climate change lag significantly behind what is needed to deliver on the Paris agreement, Tesco deserves real credit for being the first corporate to publicly commit to align with a high ambition 1.5C target," he said.
Dave Lewis, Tesco chief executive, has unleashed a torrent of green initiatives since he joined the company three years ago from consumer group Unilever, including the abolition of two-for-one promotions on fruit and vegetables that encourage wasteful shopping.
He had been seen as a natural successor to Paul Polman, Unilever's chief executive, a leading backer of the Paris deal and corporate sustainability measures.
Tesco's goals will require big investments in renewable power because about 65 per cent of its emissions come from electricity needed for its distribution centres and 6,500 stores around the world.
Refrigeration gases account for 15 per cent of the company's emissions, according to Kené Umeasiegbu, Tesco's head of climate change. Another 12 per cent comes from its delivery vehicles; 7.5 per cent from heating and 0.5 per cent from business travel.
Mr Umeasiegbu said efforts were already under way in Tesco's two biggest markets, the UK and Thailand. The group spent £8m on solar power at its Thai operations last year and plans to increase this in future.
Ultimately Tesco aims to become zero carbon by 2050 but it does not expect its plans to result in extra net expenditure because it thinks green energy outlays can be offset by savings.
Mr Umeasiegbu said the company had invested more than £700m in energy and refrigeration efficiency since 2007 in a move that had helped cut its electricity bills by £200m per year.
Back