Microsoft sees its future at the 'intelligent edge'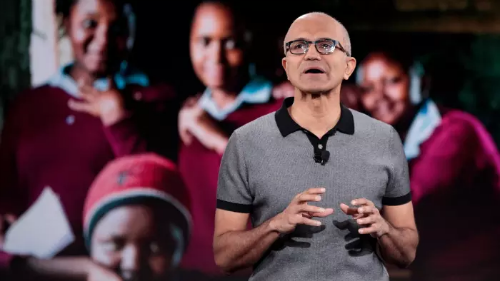 FT, May 11, 2017
By Richard Waters
The army of independent software developers producing applications for the Windows operating system was once one of Microsoft's strongest assets. As the number of applications grew, users were drawn to buy PCs, in turn attracting more attention from developers — a virtuous circle that turned Microsoft into a monopoly.
These days, though, developers have become one of its toughest audiences.
The rise of the smartphone has turned Apple's IoS and Google's Android into more popular mobile computing platforms. One recent Microsoft attempt for renewed relevance — an app store launched alongside Windows 10, intended to popularise a new class of apps capable of being run on a range of different devices — is sparsely populated.
"Universal Windows apps remains the weak spot in the Windows 10 strategy," says Geoff Blaber, an analyst at CCS Insight.
It is against that background that Satya Nadella this week took on what has become an annual burden for Microsoft chief executives. At Build, the company's developer conference, he boasted of the 100m people a month who use the Office 365 service, along with the 140m Windows users who turn to Cortana, the embedded "smart" assistant — mass audiences waiting for today's developers who are looking to expand the reach of their apps.
But he also had a new message for the developers in attendance. If missing the smartphone boom was a glaring business failure, then Mr Nadella sketched out a future where his company might be able to look past this, to a new post-smartphone computing platform that will depend heavily on artificial intelligence.
"It's no longer mobile first", the Microsoft boss declared — perhaps hopefully. Applications in future would not be written to run on a single gadget, he said, but to span devices. And he jettisoned the slogan that had defined his first four years at the helm — "Cloud first, mobile first" — for a new piece of inspirational jargon: "Intelligent cloud and intelligent edge".
The subtle shift — putting a new emphasis on AI and replacing the idea of smartphones with a wider range of "edge", or local, devices — is an extension of the strategy that has shaped Mr Nadella's tenure. He had already abandoned his predecessor's plan of using the Nokia handset acquisition to take Apple and Google head-on in smartphones.
"It's clear that Microsoft is ceding the device market for now," says Joshua Trupin, an analyst at Directions on Microsoft. Instead, he adds, its aim is to provide the infrastructure for developers to reach their users on any and all devices — an increasingly disparate range as digital intelligence spreads.
That might sound surprising at a time when Microsoft is still busy coming up with new gadgets to stamp its name on. This month it has unveiled both a Surface laptop computer, as well as a copycat "smart" speaker modelled on Amazon's Echo. On Thursday, it is also expected to give an update on HoloLens, its ambitious augmented reality headset.
But Mr Nadella outlines a modest aim for the amount of Microsoft hardware the average user will encounter. "What we want is one device in a person's life to be a Microsoft device," he said. With that foothold, the company believes it can "make it better on all a person's devices" — in other words, that users will want the services and apps they encounter in the Microsoft universe to be available wherever they go next.
Much depends on Azure, the "intelligent cloud" platform at the centre. This has become a clear — though still distant — second to Amazon Web Services in the cloud computing market.
In the future as seen by Mr Nadella, "you can build an Azure function that runs in their cloud, and move it out to edge devices," says Ed Anderson, an analyst at Gartner. "From a developer perspective, it feels more compelling." A number of initiatives announced on Wednesday will help Microsoft's case with developers, he says. These include a new cloud database service called Cosmos DB, which is designed to put data close to the point of use, essentially stretching central cloud services closer to the edge.
Another asset highlighted by the Microsoft boss are the 12m companies and other organisations that use Microsoft's Active Directory, a single sign-on service that makes it easier to manage cloud services. Anyone developing apps for these users would also benefit from this common identity, Mr Nadella said.
"Azure is clearly the heart, soul and future of the business," adds Mr Blaber.
But Mr Nadella's vision stretches beyond the idea of just making it easier to develop services centrally and deploy them more widely. Instead, he said, with more data being collected — and used — on personal devices, more computing power will also have to move to the "edge", rather than all data being funnelled to central cloud servers.
"We know the currency of this platform shift is all about data," Mr Nadella said. "Data has gravity, computational power will move to it."
Since data are also the raw material that fuels machine learning, that will also mean finding ways to "train" AI systems on smaller sets of data held on local devices.
Mr Nadella is not alone in dreaming of pushing AI out of the data centres that dominate the cloud and moving it closer to users. "This is emerging as a key battleground with Amazon and Google," says Mr Blaber. It may sound like a minor shift in tech jargon, but the battle for the "intelligent edge" could soon become a key test for Mr Nadella's attempt to remake Microsoft.
Back