Sharing the same destiny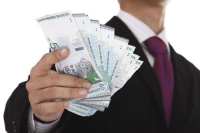 The Star, December 7, 2014
I AM worried about the economy of Malaysia as we head towards 2015, and I am sure many Malaysians also share my concerns over the uncertainties in the coming months.
All the assurances and figures given by our leaders, we are sorry to say, are no longer convincing as they don't seem to connect with market sentiments and the realities on the ground.
If we only listen to all the glowing official reports, everything is supposed to be all hunky dory. In short, there's nothing to worry about as the economy is on course and Malaysia is doing everything right.
Rhetoric by politicians and certain individuals, which smacks of racism and political bullying, are not going to help the economy. It can only worsen race relations in Malaysia and make investors think twice about us.
And if you listen to the palaver of some politicians, it sounds as if there are more pressing issues than the state of our economy to worry about.
The impression given seems to be that the mundane issues of the economy should be left to the economists, businessmen and academics.
These are the delegates who see threats and ghosts from fellow Malaysians when there are none, but they are not able to see the huge economic challenges staring them in their faces.
Even if they are not business owners or part of Corporate Malaysia, they should be concerned about how these challenges will affect the ordinary people, including their livelihood.
This is the time when companies have to worry about paying the salaries of their staff, meeting targets, ensuring a clean sheet for the quarterly reports and planning for the next year.
The weak market sentiments and growing inflationary rates, coupled with the already tight wallets of many consumers, are hitting the lives of ordinary people hard. And even politicians too.
When companies don't do so well, they have to cut down on operating expenses, reduce bonuses – possibly even increments – and do away with certain perks and privileges.
According to CIMB Research, the third-quarter results fell below consensus estimates, which was another reason for the weak overall stock market performance.
Based on the 117 listed companies the research house tracks, the percentage of stocks that missed expectations increased from 30% as at end August 2014 to 36% in the latest quarter.
Kenanga Research, meanwhile, said that during the third quarter, it "saw the highest number of companies under our coverage delivering below expectations results, or 40% of the stocks."
These samplings provide a fair picture of the general performance of most companies listed on our stock exchange.
And it is, of course, not just the public companies but the private ones too that have to deal with these economic challenges.
In short, ordinary Malaysians have to brace themselves for a tougher year. Other economies like China and Singapore have also predicted lower single-digit growth for next year.
When the going gets tough, we will realise that many of us are living beyond our means, and the accumulated household debt will become problematic.
These are the substantial matters that we should all be talking about, not just at political meetings but also together as a nation.
We should all focus on expanding the economic pie and giving good suggestions on how to overcome these challenges.
It's absurd to still talk about vernacular schools or sulk over the voting patterns of the Chinese voters in the last two general elections.
We are at a crucial juncture where the price of oil is sliding downwards and the ringgit is getting weaker. These are two factors that will have an impact on our Budget, which may even need to be revised.
The falling oil prices, which shows Malaysia's exposure to external factors, pushed the ringgit to its lowest level since February 2010 against the US dollar on Thursday.
These grassroots-level politicians should be worried about the price of commodities, especially palm oil, as it would have a deep impact on the rural smallholders whom they claim to champion.
They should be asking our leaders if these would affect our vision to become a high-income developed nation by 2020, which is only just five years from now!
One does not need a degree in economics to know that our heavy reliance on the export of oil, palm oil and rubber for the country's revenue means the decline in global prices for these commodities will hit us hard.
We are talking about the effects on our half-a-million rubber tappers and smallholders who are already struggling with the daily cost of living, as media reports predict over a 60% drop in earnings since early this year.
Felda Global Ventures Holdings Bhd reported its first quarterly loss of RM12mil for the quarter ending September, with its stock price taking a beating after the announcement.
Worse, the company only achieved 53% of the market consensus full year profit.
Just over the last one month, foreign investors have reportedly taken out over US$3bil (RM10.4bil) from the country.
Among us Malaysians, there seems to be an extreme obsession with politics, and there seems to be no real concern with business and economics.
Reading political blogs and getting into a frenzy over race issues in social media seem to be the preoccupation of many, when we all should be working together to achieve our growth target.
There's no point talking about how the economic cake should be cut when it is getting smaller and needs to be expanded.
Some of us are remarkably arrogant and think that we are better than our neighbours because they are the ones who supply us with maids and construction workers.
This kind of thinking will be our downfall as these countries, with their bigger markets, quickly put their act together.
The depreciation of the ringgit, while making our exports more attractive in price, will also mean costlier food bills as we are a net importer of food.
All this may sound gloomy and even seem out of place as the year comes to a close and when most of us have to clear our leave and spend time with our families during the holiday season.
But the point to politicians who still live in a world of their own is that they should worry about the economy and how ordinary people live. After all, the reason they are in politics is to seek power and helm the government, which has to be responsible for many of these issues.
American civil rights leader Martin Luther King Jr once said: "We may have all come on different ships but we are in the same boat now."
Some of us may still want to argue over this saying but make no mistake about it – as Malaysians, we share the same destiny.

The views expressed are entirely the writer's own
Back