Let's go for a free ride!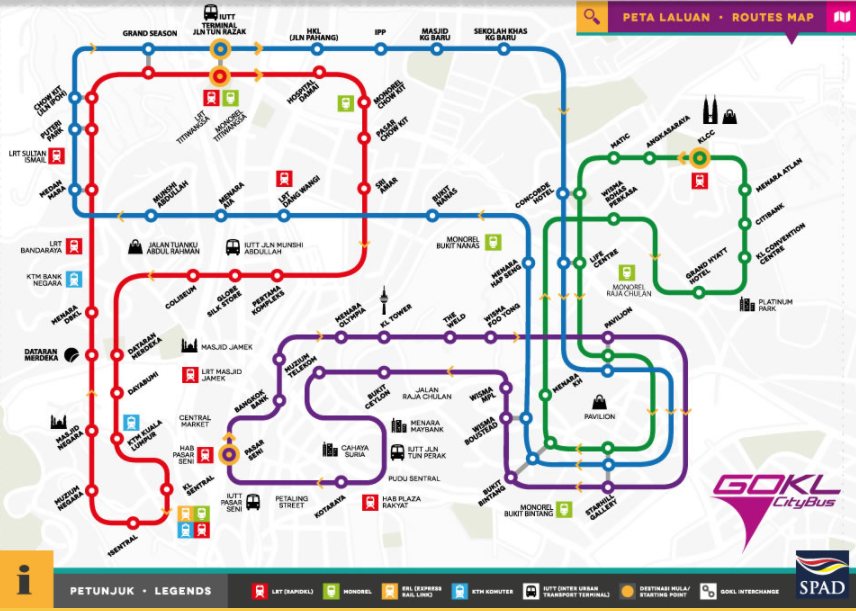 NST, May 29, 2014
Clean and spacious, GoKL's zero-fare shuttle buses are now plying more routes, so hop on and see the city, writes Shuib Taib
FREE public transport. Free public transit. Zero fare. Whatever name you like to call it, the concept of a free shuttle is not new.
Many cities around the world have converted their bus networks to zero fare. These may be set up to ease bottlenecks or fill gaps in the transport network.
The city of Hasselt in Belgium is a fine example. When fares were abolished in 1997, it resulted in a marked rise in ridership. From a tourist point of view, this is a winner, especially for budget travellers. It is convenient, practical and pocket-friendly.
In Malaysia, the concept of zero-fare shuttles was introduced in Kuala Lumpur and other cities in the cpuntry (see accompanying story).
Two years ago, KL launched its free shuttle-bus on Merdeka Day and aptly named it GoKL, with a modest operation of only two buses.
The buses loop the city centre, covering most of its iconic attractions.
FAST, CLEAN AND FREE!
Yes, in case you haven't heard, there is a smarter way to get around KL without having to worry about getting stuck in traffic, parking, etc.
Covering areas within the perimeters of Kuala Lumpur, GoKL started with two routes, colour-coded as green and purple lines.
The purple line takes passengers from Bukit Bintang to Chinatown and back while passengers on the green line are given a free ride around the KLCC-Bukit Bintang-KLCC area.
Recently, two new routes — red and blue lines — were introduced, covering 10.8km and 9.2km respectively.
The red line starts at KL Sentral and stops at KTM KL as its 18th stop before making its way back to KL Sentral.
The blue line starts its journey at Medan Mara and makes 16 stops before returning to Medan Mara.
Considered environmentally friendly, these buses use NGV gas and each fill lasts up to 200km. This means less visits to the bus depot to refuel.
The green and purple lines utilise 30 buses. As for the red and blue lines, 14 and 11 buses respectively ply these routes.
Buses arrive at stops under all the four routes every five minutes during peak hours and 10-15 minutes during off peak times.
Indeed, public mobility has never had so many options. With rising costs in living and taxi drivers charging according to their whims, the introduction of this free public transport is timely.
PAINT THE TOWN PINK
Not knowing what to expect, I hop on one of the 15 pink-coloured coaches at Central Market (next to Geo Hotel on Jalan Hang Kasturi). The purple line bus leaves at 3pm sharp with a handful of passengers.
My first impression is that the bus is clean and comfortable. This air-conditioned and spacious bus is also disabled-friendly and equipped with free WiFi.
The bus makes stops at 15 locations. Passengers are mostly locals and foreign workers. There is no sign of a Caucasian tourist on board yet.
The "transit" is smooth. Before I know it, the bus has made a full circle in slightly over 40 minutes. Not bad, given the heavy traffic during the peak period.
CONVENIENT STOPS
Suria KLCC, Starhill-Pavilion KL, KL Tower (entry road), Lot 10, Sungai Wang, Maju Junction, Pasar Seni, Muzium Telekom (opposite), Kota Raya, Times Square — these are some of the stops that the bus makes.
If that is not good enough, how about Concorde Hotel, The Weld, Raja Chulan Monorail, Matic and Menara Hap Seng?
MY VERDICT
Why should we use this service? Given the huge amount of construction work going on in the city centre, driving is no longer a desirable option.
Try to imagine going on a shopping spree in the Bukit Bintang shopping district. After a round of shopping at Pavilion KL, you'll want to check out the scene in KLCC.
To get there conveniently, GoKL is the best option. Yes, you can get a taxi but most of the drivers are reluctant to take you as they consider the journey too short and therefore, "not lucrative".
Sure there is a walkway or pedestrian sky tunnel connecting Pavilion KL to KLCC but you are tired and besides, you want to save energy for your second round of shopping.
So hop onto GoKL. It is clean, air-conditioned, spacious (although during peak hours it is a bit cramped) and efficient.
Zero-fare city bus
OUR first zero-fare bus was the Kuching City Tram in Kuching, Sarawak, a free shuttle for hotel guests introduced in 2003.
Actually a converted open-air bus, the tram service takes visitors on a round trip of the city's main attractions. However, it is only for passengers who wear the City Tram sticker which is available at all hotels or at the Visitor Information Centre.
Passengers can get off at any stop and catch the next tram one hour later, giving visitors the opportunity to visit the museum or the Sunday Market.
In the peninsula, Kuala Terengganu jumped onto the bandwagon and came up with its own city bus. Designed like an extended Malay kampung house, the bas bandar (city bus) sports a heritage feel.
The buses ply three routes — to Chendering, Taman Tamadun Islam and Batu Enam. Although it is not free, the fare is a token RM1, no matter the distance.
Bigger cities like Penang, Petaling Jaya and Kuala Lumpur soon followed suit. Four years ago, Rapid Penang Cat offered free shuttle services through George Town.
It covers a route from Weld Quay to Penang Road and back. Along the way, it makes 19 stops at strategic points of interest. It also plies roads within the core and buffer zones of the George Town Unesco World Heritage Site.
Klang Valley folk finally got a free bus service when GoKL was launched two years ago for KL residents and visitors. Petaling Jaya launched its own free bus service last April.
The 28.2km route starts from the bus terminal in Jalan PJS3/11 and passes through Jalan Penchala, Jalan Gasing and Jalan Sultan. With 10 vehicles in use, a five-minute frequency during peak hours and 10 minutes at off-peak are envisioned.
Back