KL Mayor Honours Tan Sri (Dr) Francis Yeoh with Award for Outstanding Contribution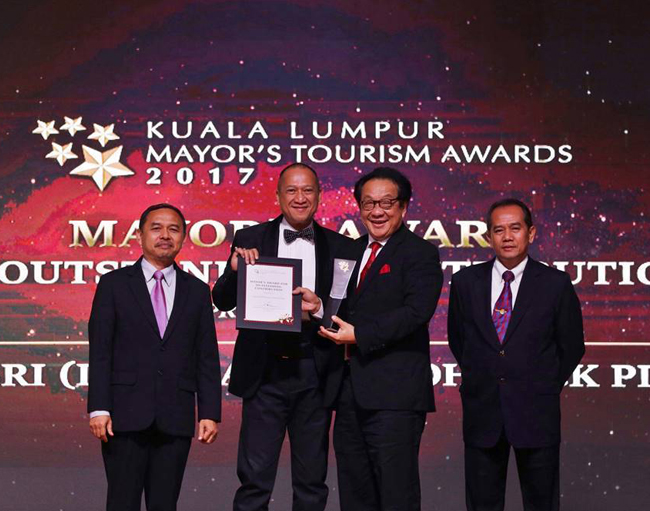 Kuala Lumpur, May 24, 2017
Tan Sri (Dr) Francis Yeoh, Managing Director of YTL Corporation Berhad was honoured with the Mayor's Award for Outstanding Contribution at the Kuala Lumpur Mayor Tourism Awards 2017.
The award recognizes individuals who strive to promote Kuala Lumpur as an international tourist destination, offering world-class tourist facilities with excellent levels of service.
Honoured to be recognised with such a prestigious award, Tan Sri (Dr) Francis Yeoh said, "I thank my Lord Jesus Christ for this award and recognition and I continue to strive to be a good steward of all that He has blessed me with. All glory to Him!"
Ranked as one of "Asia's 25 Most Powerful and Influential Business Personalities" by Fortune and Business Week, Tan Sri Francis firmly believes in responsible stewardship in business. In 2010, a panel of Nobel Laureates made him 'Primus Inter Pares Honouree' of the Oslo Business for Peace Award for encouraging socially responsible business ethics and practices. In the same year, he received the Corporate Social Responsibility Award at CNBC's Asia Business Leaders Awards.
Leading one of Malaysia's top conglomerates, Tan Sri Francis Yeoh Managing Director of YTL Corporation has led the company from a simple construction business and expanded its reach into utilities, hospitality, communication, infrastructure development and education.
YTL's presence in Bukit Bintang changed the landscape of the city with the rejuvenation of Bintang Walk as it transformed a once-dingy stretch of Kuala Lumpur into one of the world's top shopping destinations. Kuala Lumpur was ranked as the 7th Most Visited City in the World according to Mastercard's Global Destinations Cities Index for 2016 and was listed by CNN as one of the World's Best Shopping Cities.
Starhill Gallery, run by the YTL Group has put Malaysia on the world's horological map with its annual retail-focused luxury watch and jewellery showcase, A Journey Through Time. The event succeeded in building Kuala Lumpur as a high-end shoppers' destination while highlighting our nation's duty free status for luxury goods.
Known for its excellence in service, The YTL Group also runs Lot 10 Shopping Centre and numerous award-winning hotels around the city, namely The Ritz-Carlton, Kuala Lumpur and JW Marriott, Kuala Lumpur, The Majestic Hotel KL, Hotel Stripes KL and Vistana KL.
YTL has played a key role in the development of the tourism industry not only in the areas of retail and hotels, but also in the areas of transportation and food & beverage.
YTL's Ekspres Rail Link has seen a ridership of more than 10 million passengers from the KL International Airport to the city centre and the prestigious Eastern & Oriental Express connects Southeast Asia and is the ultimate way to explore hidden gems - aboard its most elegant train.
Another favourite establishment by the YTL Group – Lot 10 Hutong garnered the Platinum Award in the Food Court category at the Kuala Lumpur Mayor Tourism Awards Gala event. Lot 10 Hutong is the first-ever heritage food village with century old hawker stalls from around town.
Lot 10 Hutong offers food connoisseurs a truly gastronomic experience right in the heart of Bukit Bintang and has been listed and recommended by New York Times as the "Top 37 Asian Odysseys".
Back