Dr Francis Yeoh honoured by Muhammad Ali Foundation and Celebrity Fight Night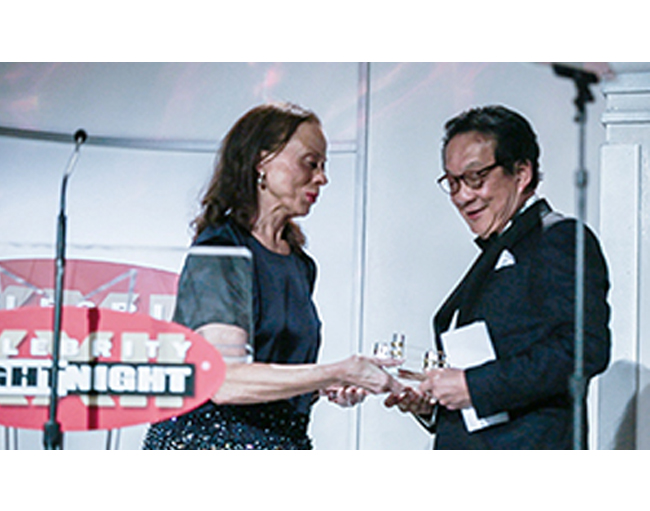 Phoenix, Arizona, April 9, 2016
Malaysian business tycoon Dr Francis Yeoh was honoured with the prestigious Muhammad Ali Celebrity Fight Night Award at The Celebrity Fight Night Fundraising dinner in Arizona last night.
Dr Yeoh headed up a list of five honourees who were presented with the award, designed to acknowledge leaders in sports, entertainment and business who best embody the qualities of boxing legend Muhammad Ali.
The awards were presented in front of celebrity guests including Country Queens Reba McEntire and Carrie Underwood as well as the former World Champion and sporting icon Muhammad Ali, who was attending the event for the first time in two years.
Accepting the award from Ali's wife Lonnie Ali, Dr Yeoh said: "Thank you Lonnie and to everyone here tonight. I'm just so shocked and surprised to be among the honourees.
"The most amazing thing I did during my time here in Arizona was to go to the Muhammad Ali Centre. And what I saw there was your hearts helping people with this terrible disease.
"We must find a cure for Parkinson's. We must continue these events until we find a cure.
"I'd also like to thank all the nurse and doctors I met at the Muhammad Ali Parkinson Centre. I had tears in my eyes to see these angels, these unsung heroes, who are continually working every day making sure they improve the lives of people with Parkinson's.
"This award is as amazing as the great legend.
"Muhammad Ali fought Joe Bugner many years ago when I was a very young man in Kuala Lumpur.
"I've always followed boxing and always loved only one great hero and that's Muhammad Ali.
"Our great hero said something I'll never forget. 'The fight is won or lost far away from witnesses. Behind the lines, in the gym and out there on the road, long before I dance under those lights.'
"And I see all of this tonight. I see your hearts and in all of you, I see the generosity in your hearts.
"I want to thank our Lord Jesus for giving me this honour to be able to share with you my heart and I give him all the credit and the glory."
Other recipients of the award included seven-times Grammy award winner Carrie Underwood and NFL quarterback Carson Palmer.
Presenting the award Lonnie Ali added: "If there's one big recurring theme to Celebrity Fight Night it's that's they find giant successes who are even more accomplished in their philanthropy.
"Dr Francis Yeoh has a brilliant mind and world level success story and has received the Commander of the British empire presented by the Queen herself."
Celebrity Fight Night has raised over $118million for the Muhammad Ali Parkinson Centre in Phoenix, Arizona since its inception in 22 years ago.
Previous recipients of the Muhammad Ali Fight Night Award have included Hollywood actors Halle Berry, Jim Carrey and Arnold Schwarzenegger and chat show legend Larry King.
This year's event, which is expected to raise over $5million, also included performances from comedian Sinbad and country duo Brooks and Dunn.
Back