The art of creating a masterpiece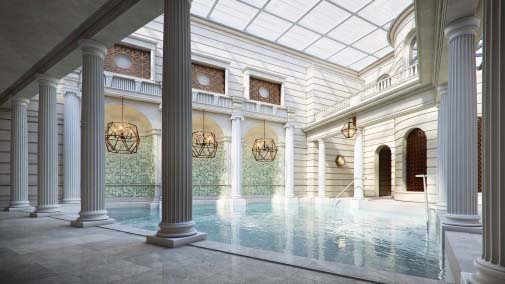 The Star, October 25, 2015
By JUNE H.L. WONG
Named after one of england's most revered 18th century painters,YTL's latest luxury hotel, the Gainsborough Bath spa, has been crowned UK's hottest new hotel with good reason.
Have you used your bathtub yet?" It was the second time I was being asked in less than 24 hours. Yes, I was in Bath as a guest at the Gainsborough Bath Spa hotel owned by YTL Hotels and Resorts, and bathing is a big thing in this city in South-west England. Yes, my room comes with a gleaming white tub with shiny taps but, hey, I am Malaysian and I prefer showers to baths.
But after the third query, I became very curious about my bathtub. Finally,a senior staff member asked if I noticed the extra tap with a brass plaque that read: "Thermal Water". At last, I learnt my room number 124 is quite special, being one of just three out of the hotel's 99 rooms that have a bathtub with thermal water piped directly to it.
Before that, I assumed I drew the short straw for rooms because I had to go through a labyrinth of a walk, up and down stairs, open several doors and go down deserted corridors to reach it. But any thought I was given Cinderella's old room was swept away the moment I stepped inside. Still, I had assumed the luxurious trappings, including ye olde bathtub, were standard in all rooms.
My spacious room was beautifully appointed in soothing shades of taupe and blue. Taking centrestage was a magnificent bed with a mattress so high that I would be sleeping two and half feet above the floor. Light came in from tall windows overlooking a little park and a shop that sold Leonidas chocolate. The bathroom was a good size too with a shower cubicle and appropriately luxurious products from Asprey and Kerstin Florian. A really nice touch was the heated tiled floor which meant I could pad around without slippers.
I would have lolled longer in my room if not for hunger pangs and curiosity about the rest of the hotel, which was the reason for my visit to Bath: its grand opening on Sept 29. Because Bath is so famous as a Unesco World Heritage site, I already had an inkling of its history and association with thermal water. But by the end of my visit, I was chin-deep in a flood of information about its ancient origins as the Roman town of Aquae Sulis, or "Waters of Sulis", the Celtic goddess of healing, and its unique reputation as the only place in the whole of England with natural hot springs, not to mention its well-preserved Georgian architecture and famous residents like novelist Jane Austen, astronomer William Herschel and painter Thomas Gainsborough.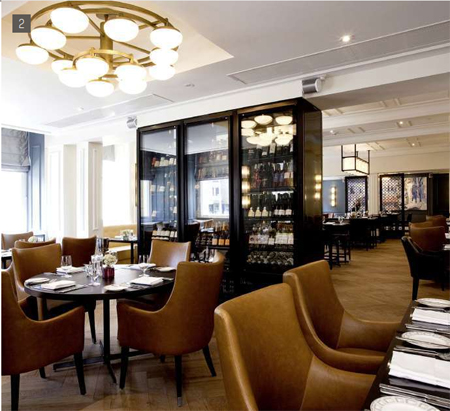 Capping it all, is the triumph of a Malaysian company owning and operating the only fivestar hotel in Britain with a direct bore hole to the mineral-rich thermal water for three therapeutic pools in its Spa Village as well as holding the operating licence for the popular Thermae Bath Spa, located directly across the narrow cobbled street from the hotel.
While Gainsborough's thermal pools are more exclusive, Thermae is open to the public who pay affordable fees to enjoy its steam rooms, rooftop and indoor thermal pools and a wide range of spa treatments. By the time of its official opening, the Gainsborough Bath Spa had been in business for a mere two months plus. But that was enough to show why it is South-west England's only member of the Leading Hotels of the World.
YTL had transformed three dilapidated but protected heritage buildings that had served as a alms house, hospital, and finally as an arts and design college (hence its name) into what Forbes. com hailed as "the hottest new hotel in the UK". That and rave reviews from the British media is why YTL Hotels executive director Datuk Mark Yeoh could confidently tell me over breakfast that Gainsborough now "is THE five-star hotel" in that part of England.
How YTL came to own such historically important structures is a fascinating tale which unfolded over the course of the next several days. At the moment, I was enjoying the lovely ambience of the hotel's dining room and tucking into its signature breakfast dish from Bavaria: Weisswurst, white pork and veal sausage, served with a huge soft pretzel and sweet mustard.
The dish is courtesy of the chef for whom the dining room is named after: Johann Lafer. A Michelin-starred celebrity chef from Germany and a close friend of the Yeohs, Lafer has brought his "dining without borders"gourmet concept to the restaurant which features dishes he developed with his pal, YTL Hotels group corporate chef Wai Look Chow.
Both chefs worked so well together they co-authored a cookbook, Two Friends, One Cuisine; a copy of which is found in all the Gainsborough rooms. The duo has brought what Yeoh described as a "seamless fusion" of Western and Asian cuisines to the fore. "The restaurant's interpretation of fusion is very delicate and not overt. It has to be played very carefully, otherwise it's not fusion but confusion," he said. So far, he's been proven right by the positive reviews from food critics.
The Johann Lafer, like the rest of the hotel, makes the best of its historical Georgian architecture where arched doorways, high ceilings, tall columns and large windows are set off by muted blue-grey walls, and brown accents in the furniture and fittings like the glass wine cellar and room dividers. As befitting a five-starrer, the hotel has the elegant Gainsborough Bar and Lounge for evening drinks and nightcaps and the cosy Canvas Room for afternoon tea and cakes. It also has full conference facilities.
But what interested me the most was the hotel's Spa Village located underground and its three pools and showers delivering the fabled thermal waters of Bath. For the next two hours,Iwas soaked, steamed, chilled and massaged. Because I was running late, I missed getting into the pool in the main atrium that's designed like the Roman bath of yore with columns, niches and gorgeous blue tiles under a glass ceiling that opens to the sky. But my own private treat awaited me. That night, I plugged my tub, ran the tap marked "Thermal Water" and slipped in au naturel to let the heated water relax my muscles and sooth my mind. It was pure bliss. Oh goddess Sulis, your magic still works!
Room rates, inclusive of breakfast and VAT, start at £305 (RM1,951) for a deluxe double to £1,160 (RM7,421) for the Gainsborough Suite. For more information, visit www.thegainsboroughbathspa.co.uk.
Back