Distinctively Bornean nature retreat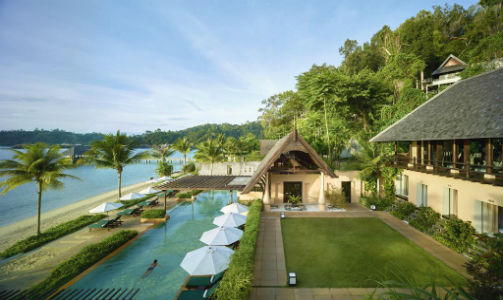 NST, April 12, 2013
By Monica Tindall
UNPARALLELED: YTL's newly-opened Gaya Island Resort surpasses in giving you the full experience of nature with style.
YTL has long held a reputation for luxurious escapades in lush natural environments around Malaysia. Their latest opening, Gaya Island Resort is no different.
A 15-minute transfer from Kota Kinabalu airport sets you alight at Sutera Harbour. With views of a sapphire sea and envy-invoking ivory yachts, the YTL Lounge is a white bright cool haven from the outside tropical heat. A creamy calamansi sorbet refreshes while you're seated on couches waiting for the friendly staff to organise your check-in. Soon you're escorted to YTL's speedboat and a quick hair-tangling invigorating ride later, you arrive in a Bornean paradise.
Merger of man-made and natural
Set amongst the lush forest, rather than in place of it, Gaya Island Resort is a model of friendship between the natural and the man-made. Trees protrude through walkways, mangroves encroach on boardwalks and lush gardens frame communal spaces. While minimum plant life was touched to build the resort, an assertive planting programme is in place to re-green the areas that now hold artificial structures. Vines are already making their way across cement walls and up metal supports. Before too long, it will be an extensive expanse of leaves, and villas will resemble floating tree houses ascending the hills.
The core common spaces are at sea level just off the jetty. Open walls entice breezes and alongside ceiling fans, are the preferred method of cooling. Minimal complexity is evident throughout, freeing the mind from too many details and encouraging appreciation of the island habitat.
The Pool and Bar provides multi layers of refreshment. The upper level sports low tables, lounges and transparent chairs, beside a compact bar with stools and high counters. Dropping down a level are cushioned rectangular platforms protruding just above the water's surface– perfect for a few hours of lounging and dipping.
Descending again is a lap pool complete with swim-up bar and lining the edges are classic white sun umbrellas and deck chairs. It's as if the designer were planning a tiered theatre, ensuring the whole audience has a clear view of the sea.
Destinations are linked by gardens and guests are enticed to sit in any number of seating configurations along the way. Beginning at the lobby reception, a pillowed lounge stretches from one end of the lobby to the other. Between the pool bar and restaurants, relaxation rooms, fitted with mattresses, cushions and wispy curtains, entice meditation or napping, again with an outlook to the beach. A spiral staircase leads to an open walled library, furnished with low sofa beds, books, fans and more views.
Feast for the senses
Feast Village, the all-day dining location adjoins and is lined with a cage of perpendicular wooden beams softly bent outwards at the middle in a stance of cradling protection. Gentle wind blows through to the international buffet that's charmingly lit with lanterns made from traditional fishing traps. It's here that guests linger over breakfast, sipping on freshly brewed coffee and munching on some of the best pastry items in the country.
Up another spiral stairway, Fisherman's Cove offers fine dining under the stars. Intimate, candlelit tables are separated with gardens and pebbled pathways. Borneo's sea creatures are deliciously showcased. In efforts towards a more sustainable future, only line-caught fish are sourced from local fishermen, reducing the use of nets – which catch all in their way, rather than just the desired species.
Having just over 100 rooms, the food and beverage options are currently limited to these three main restaurants, the Pool Bar and Lounge, Fisherman's Cove and Feast Village (also a small menu at Tavajun Bay). There has been some discussion however of introducing another restaurant in the future.
Moving further along the beach, hammocks and sun chairs bedeck the tree shaded shore. Romantic dinners on the sand are popular arrangements, encouraging couples to feast like chieftains. In Bajau Laut tradition, land and sea creatures are barbecued on skewers over hot coals. While the meal is readied, stargazing through the telescopes (thoughtfully set up around the resort) should not be missed.
Walking resort
Set back from the public areas are the private villas. Not for the frail, Gaya Island Resort is a 'walking resort.' Rooms are accessed either through wooden boardwalks meandering through the mangroves or via relatively steep pathways leading up the hills. Other than the van and motorbike used for transporting luggage and cleaning supplies, there are no other vehicles on the island. The short hikes between rooms and restaurants are ideal for waking up the appetite before a meal or aiding digestion after. A little trekking is well rewarded with captivating panoramas of sea and jungle.
All rooms possess their own balcony reaching out to the shore and early risers are usually awarded golden views of the sun rising behind Mount Kinabalu (as the day progresses, clouds often hide the peak).
Essentially the interiors are divided into three sections – bedroom with television; study with mini fridge; and walk-in wardrobe and bathroom with a king-sized tub, rain shower, toilet and double basins. Frosted glass provides privacy but also allows for natural light, adjustable with the aid of wooden blinds. Polished marble and quality fittings finish the wet spaces. Dark timber and natural hues mark the rest of the space.
Backing the villas are forest trails and resident naturalist, Justin Juhun, enthusiastically brings guests on gui d e d nature walks throughout the day and night. His passion is contagious and p a r t i c i p a n t s can't help but be enamoured by his child-like curiosity and wonder. The botanic reserve is rich in native plants and wildlife. Shy proboscis monkeys, though rarely seen, even make their home in this national park. Do remember to pack insect repellent as communing wi th nature means embracing it all including pesky mosquitoes.
Marine sanctuary
Blessed with two biology experts, Gaya Island Resort also employs their own in-house marine biologist, Scott Mayback, who not only leads snorkelling explorations, but is also overseeing the set-up of a turtle rescue and marine sanctuary.
Sadly, the waters surrounding KK are strewn with trash. Turtles often mistake plastic bags for their favourite food, jellyfish. Eating the rubbish usually leads to serious illness or death. The area will support the rehabilitation of injured turtles and sustain coral growth tanks hoping to counteract the negative impact of human development and offer an educational programme.
After all of that activity, a spa treatment is in order and as expected, YTL's Spa Village more than fulfills. Set in the mangroves, there's no need for nature-inspired relaxation music as the cicadas and local wildlife sing for you. With a core philosophy of honouring the healing culture of the region, this spa pays tribute to the flora and fauna of Sabah – from the mountains to the sea. Their aim to give guests a true Bornean experience is achieved through employment of local Sabahans. Treatments reflect traditional healing practices of the region and wholesome spa products are sourced locally.
From sunrise over Mount Kinabalu to moonrise shimmering off the waters of the Marine Park, Gaya Island Resort is a luxurious retreat for nature enthusiasts and those wanting a peaceful getaway.
Back