FrogAsia Inspires Changemakers In Education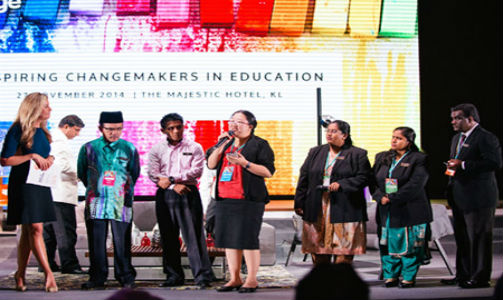 Parents and Teachers Gain Insights on Bringing About Change From World Class Speakers at Education Conference
Kuala Lumpur, 27 November 2014
For the second year in a row, the Leaps of Knowledge Conference brought global insights and knowledge about education to a Malaysian stage. The one-day conference themed 'Inspiring Changemakers in Education', presented by FrogAsia and sponsored by the YTL Foundation, provided a platform for participants to network, exchange ideas and learn new skills.
The Leaps of Knowledge Conference challenged teachers, parents and influencers in the Malaysian education field to be at the forefront of change in Malaysian education. World class-speakers such as Alistair Smith (author of Accelerated Learning in the Classroom), Dr. Alice Wilder (Programme developer and writer for Amazon Kids, Nick Jr and Cartoon Network, including edutainment series such as Cha-Ching Money Smart Kids and Blue's Clues), Julia Immonen (Founder of Sport for Freedom and world-record holder), and our local testimony of excellent school leadership, Jaul Anak Bunyau (Head Teacher of SK Ulu Lubai, a school in the interior of Sarawak and one of the top performing primary schools in Malaysia) will inspire and challenge Malaysian educators to be agents of positive change through the use of technology and the Internet.
"There's never been a more important time to talk about change. With the rise of social media, calls for change can now reach more people very quickly. There are many things that can be improved if only things were done differently," said Lou Yeoh, Executive Director of FrogAsia Sdn Bhd.
"At FrogAsia, we have the privilege of working with a large community of students, teachers and parents in Malaysia. We meet individuals who are making a huge impact in their schools and communities because of change. Leaps of Knowledge provides a platform for stories like these to be shared," she added. "We want to equip today's educators to be changemakers and lead the momentum of change that will reshape education in Malaysia for years to come."
The conference speakers were joined by prominent thought leaders and education policy makers in a panel dialogue, during which participants were able to pose their questions for discussion.
Panel guests included Secretary General of Ministry of Education, YBhg. Tan Sri Dr. Madinah Binti Mohamad, Education Director-General of Ministry of Education, Datuk Dr. Khair Bin Mohamad Yusof, and Group Managing Editor of New Straits Times Press, Datuk Abdul Jamil Hamid.
Over 1,000 parents and educators attended the Conference and had the opportunity to learn practical skills at the many workshops conducted by educationalists and experts on education technology and leadership. It was an occasion where ideas could be shared, friendships formed and stories exchanged. By listening and learning from each other, educators and parents were able to expand on their knowledge and explore ways to improve Malaysian education.
Deputy Minister of Ministry of Education Malaysia YB P. Kamalanathan P. Panchanathan delivered the opening address and officiated at the opening of the Conference.
Back