YTL Land on track for greater things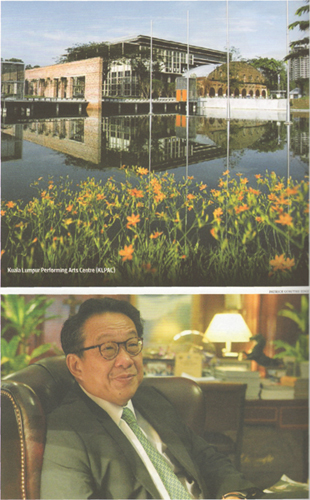 The Edge Malaysia, October 20, 2014
BY WONG KING WAI
Driving along Jalan Ipoh to catch a show at the Kuala Lumpur Performing Arts Centre, it's hard to imagine that Sentul was once an undesirable location.
In 1896, the British founded the Federated Malay States Railway in Sentul, making it into a thriving and vibrant community with a large Indian population brought in to work for the company. When the Japanese occupied Malaya, the railway depot was renamed Marai Tetsudo but the British bombed two vital complexes there in 1945, signalling the end of the occupation and the beginning of Sentul's decline.
It wasn't until the 1990s that things began to change when 294 acres of freehold land were earmarked for redevelopment. This was initially carried out by Taiping Consolidated Bhd until the Asian financial crisis in 1997/8, after which YTL Corp Bhd bought over the company. Its subsidiary, YTL Land & Development Bhd, then took over the urban renewal project.
Thus began the daunting task of redeveloping the area, recalls YTL Land managing director Tan Sri Francis Yeoh, who is also managing director of YTL Corp. The effort bore fruit as the redevelopment of Sentul has won this year's The Edge Malaysia Outstanding Property Project Award.
"It was a very difficult project to turn around. When we first saw the place, there were many abandoned apartments that were built halfway. It looked like a bomb site," he says. "But after studying the area intimately, I found a lot in Sentul to celebrate — its colourful past, the Indian culture there; its spice of life."
Many had advised him not to use the Sentul name for the redeveloped site due to the negative connotations of its shady past. He had other ideas. "I did some research on Sentul. Sentul is a name of a tree (sandori-cum koet jape)! Voila, I discovered that most Malaysian towns are named after trees. Ipoh is named after a tree, and so are Penang and Melaka. How on earth were our predecessors so clever to name our towns after trees? And how does the mind associate a place [like Sentul] with the worse of human flaws and crime?"
He decided to rehabilitate the area's good name. Yeoh divided the land into Sentul East, where the condominiums are named after spices like Tamarind, Capers, Fennel and Saffron; and Sentul West, where projects are named after trees, like The Maple.
"More expensive than golf courses"
The piece de resistance of the redevelopment is the 35-acre private and gated Sentul Park carved out of an existing golf course. The Maple high-rise, which is built there, is the only residence in KL with a private, gated park. At the time, many people did not appreciate park home developments but Yeoh stood firm in his decision to transform the golf course into a park.
Yeoh points out that park properties around the world are the most expensive pieces of real estate, citing Hyde Park in London, and central Park and Gramercy Park in New York.
"More expensive than golf courses," he underlines. "So we decided to make sure people remember the beauty of Sentul and restore its glory. We put KL Performing Arts Centre in the park to give a bit of life to the area and it has taken a life of its own."
KLPAC was established in 2005 and is one of the more recognised and commercially viable performing arts spaces in the country. Before it was given a new lease of life, the KLPAC space housed railway workshops and warehouses of the Sentul Railway.
The decision to build the performance space stems from Yeoh's passion for the arts when he was head boy of Victoria Institution, and a member of the drama club. "I noticed the country becoming less laid-back and more serious, and there was a lack of performing arts for people to express themselves. The voices that dominate society belong to politicians and businessmen but the arts express our current environment in a different way," he explains.
Yeoh also realised that besides adding entertainment and cultural value to Sentul, the area could also be revived if it attracted a younger, hipper crowd — also the reason for the eye-catching designs of the new high-rise projects there.
"In Sentul East, we hired very good architects to create iconic architecture that young people can identify with," Yeoh says. The value of properties in Sentul East have appreciated 100% in "a very short period", he says.
The Tamarind was the debut project in Sentul East. Completed in mid-2005, its starting price was RM199,000. Prices on the secondary market now start from RM660,OOO. The Tamarind consists of 502 units in two 31-storey towers and two low-rise blocks. The units have a built-up area of 910 to 1,345 sq ft.
The newer high-rise residences, The Capers and The Fennel, are still being built. They showcase geometric designs that point to what the future landscape of Sentul could look like.
The Capers was launched in 2011 with an average price of RM600 psf; it is 100% sold. The Fennel, which features four towers, was launched in 2013 at RM700 psf. The first two blocks are fully sold, while the third is 80% sold. The fourth is being built.
Today, the redevelopment of the Sentul project is estimated to have a total gross development value (GDV) of RM25 billion, compared with its estimated GDV of between RM6 billion and RM7 billion when the first phase of the project was launched in May 2002.
The project is now half-completed, with The Tamarind and The Saffron in Sentul East,The Maple Sentul West, and the commercial areas, d6 and d7, in Sentul East.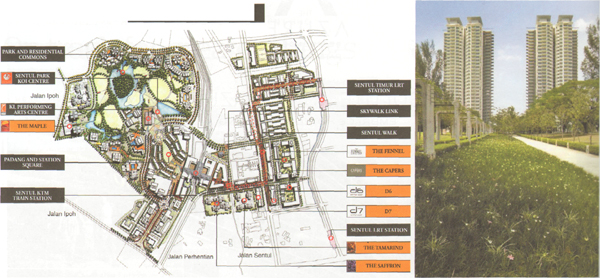 Keeping the faith
But progress has not always been so linear. The condition of the area poised an initial challenge, but so did persuading investors of the project's viability.
Building masterpieces for the people
"We had to persuade banks to take equity or the [redevelopment] of Sentul would not have worked," Yeoh admits. "We were given a 10-year reprieve to turn things around and now everyone who participated has gained."
Yeoh says the developer is in no hurry to complete the entire development as the land is freehold, and will develop as much as the market is able to absorb.
"The proudest moment is yet to come," Yeoh says, referring to a "very different" mall to be situated between Sentul East and Sentul West that is still in the planning stages.
"Malaysians are very great developers, I must say. They build great malls, great mini townships everywhere. With those benchmarks, my team and I have to think of something even more stunning.
"YTL Land loves to build masterpieces for the people. It is like a painting. You are given an opportunity as a steward of God, to create something beautiful that will last a long time. And like all paintings that have lasted a long time, its value appreciates. It continues to gain value because it was passionately done and done by very great artists," says Yeoh adding that YTL Land will faithfully continue with its transformation of Sentul.
Turnaround specialists
Past experience in turning around other unlikely projects helped YTL Land make Sentul what it is today.
"We started in Bercham, Ipoh, where we built low-cost housing that looked like terraced houses. Instead of five-storey walk-up apartments of 600 sq ft units, we built 2-storey 741 sq ft units with a living room. We found that the low-income group have larger families and it would be very claustrophobic to stay in a one-bedroom 600 sq ft apartment. It was not in our conscience to build those kinds of low-cost flats.
"I'm so glad Bank Negara [Malaysia] cooperated with us at that time to give joint-ownership to the poor to own the homes, and we persuaded the state government not to charge so much for the land. From that project 30 years ago, we realised we are quite good at turning something around.
"Then came Pantai Hillpark, in KL. It was slated by City Hall for low-cost housing. I talked to the mayor at that time, and asked, 'Why can't we leave one hill? Why must we condemn this hill to low-cost housing? Why? It has a beautiful view of KL at night. One day there will be some middle-class people of different races that would love it.
"I had to design it well. I went to Spain and came up with the Andalusian design that Malaysians love. Those who bought the first phase [of Pantai Hillpark] must be millionaires now."
Yeoh is quick to point out that while YTL Land is good at bringing up areas few see potential in its core business of making high-end luxury products.
"In Singapore, we built 30 homes on Sentosa Island and sold them for about S$15 million each. (All have been sold.) We make very high-end homes in Orchard Boulevard," he says.
Yeoh sees building houses as a way to change people's lives, and to pay it forward. He says those who bought the low-cost houses 30 years ago in Bercham have all done well, as have their grown up children.
Back