YTL's Shook! Shanghai clinches 2nd Best Restaurant at DiningCity Restaurant Week ''Summer Edition 2014''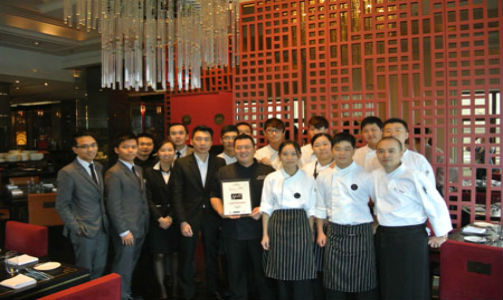 Kuala Lumpur, October 4, 2014
YTL's Shook! Shanghai clinched 2nd Best Restaurant for dining at Shanghai's Restaurant Week. Organised by DiningCity, the leading worldwide restaurant guide, Restaurant Week "Summer Edition 2014" saw more than 260 top restaurants in China vying for top spots.
Last year, Shook! Shanghai won 3rd Best Restaurant for dinning in DiningCity's Shanghai Restaurant Week. Shook! was also previously awarded the "Best Modern Restaurant" by Modern Weekly in the Modern Weekly 2011 Best Restaurants Awards.
Shook! Shanghai is the second Shook! restaurant by Malaysian YTL Hotels, after Shook! at YTL's Starhill Gallery in Kuala Lumpur. It occupies the penthouse floor of The Swatch Art Peace Hotel, a Renaissance- style 1906 heritage landmark on the Bund.

Shook!'s distinctive concept in an iconic landmark makes for a truly unforgettable dining experience. Its uniquely designed open-kitchen conveys the feel of "dining without borders" – intimate yet inviting.
With a menu consisting of Chinese, Japanese, South-East Asian and Western cuisine, Shook!'s elegant ambience and attentive service has captured numerous foodies' hearts and palates.
Shook! Shanghai, under the leadership of Star Chef, Brian Chan, has created an array of signature dishes which include snow white dancing prawns (stir-fried prawns with hot mayonnaise sprinkled with honey-glazed walnuts), confit of slow-cooked salmon, and Cajun-style sea bass.

Shook! Shanghai also houses The Time Bar and The Swatch Art Peace Hotel Terrace on the roof top overlooking a stunning backdrop of the Pudong skyline.

The glorious view of The Bund is an added incentive to make Shook! your must-visit restaurant while in Shanghai.
Back