YTL's Lot 10 Hutong Garners Platinum Award for Best Food Court at KL Mayor Tourism Awards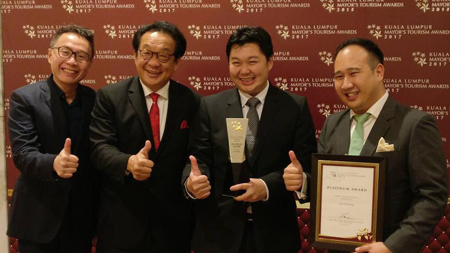 Kuala Lumpur, May 24, 2017
Lot 10 Hutong garnered the Platinum Award in the Food Court category at the Kuala Lumpur Mayor Tourism Awards Gala event.
Organised by the Kuala Lumpur Tourism Bureau under Kuala Lumpur City Hall, the event held at Shangri-La Hotel, Kuala Lumpur sought to recognize and reward establishments who strive to achieve the highest levels of excellence in service and promote Kuala Lumpur as an international tourist destination.
Lot 10 Hutong is Malaysia's first and only heritage destination that pays tribute to one of the best loved national treasures – good food and the art of local cuisines. A gourmet heritage village, Lot 10 Hutong offers a collection of the country's best eateries that have survived the second and third generations of operations.
Each eatery is hand-picked from the best of the best, distinguished by the eatery's all-time favourite signature dish with a track record that dates back at least 40 years and a brand identity that is instantly recognizable.
Lot 10 Hutong offers food connoisseurs a truly gastronomic experience right in the heart of Bukit Bintang and has been listed and recommended by New York Times as the "Top 37 Asian Odysseys". To date, Lot 10 Hutong has fed over seven million patrons, introducing them to the delights of Malaysian street food.
Honoured to be recognised with such a prestigious award, Joseph Yeoh, Vice President of YTL Hotels and YTL Land & Development Bhd said, "I thank my Lord Jesus Christ for this award and recognition and I am proud of my team who tirelessly and continuously work to promote heritage Malaysian cuisine to visitors from all over the world."
Lot 10 Hutong offers an incredibly vast and diverse taste of Asian street food, as well as culinary gems that have delighted the taste buds of Malaysians for several generations now. Lot 10 Hutong gives patrons a taste of not just flavours, but also history, heritage, and tradition, with every mouthful.
With the Lot 10 Hutong brand now serving as an umbrella under which these hawkers may flourish, it looks set to introduce a whole new world of tastes and flavours globally while preserving the humble but tasty fare that has sustained generations of people.
Back