Sultans and Prime Minister at YTL's Open House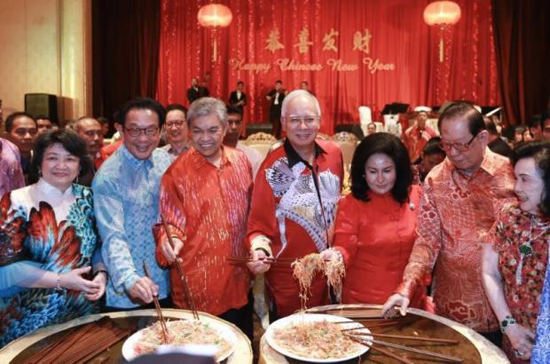 The Star, February 8, 2016
KUALA LUMPUR: Prime Minister Datuk Seri Najib Tun Razak joins thousands of Malaysians in celebrating the Chinese New Year at MCA's open house.
The Prime Minister along with his wife Datin Seri Rosmah Mansor arrived at 10am, where they were greeted by MCA president Datuk Seri Liow Tiong Lai, MCA Deputy President Datuk Dr Wee Ka Siong and other MCA leaders.
Malaysians from all walks of life queued from as early as 9am at Wisma MCA.
Deputy Prime Minister Datuk Seri Dr Ahmad Zahid Hamidi and a number of Cabinet ministers also attended the open house.
They were treated to a lion dance performance, cultural shows and an array of local Chinese New Year dishes.
Najib later attended the Gerakan Chinese New Year Open House celebrations at Wisma PGRM and YTL Chinese New Year Open House.
The Chinese New Year 'Open House' is a unique Malaysian tradition of welcoming all Malaysians or tourists at our various religious festivals is truly worth preserving. It is a glue that cements the various ethnic races with different religions to live and work together in peace and harmony.
Back