Tan Sri (Dr) Francis Yeoh wins CNBC Corporate Social Responsibility Award at CNBC's 9th Asian Business Leaders Awards 2010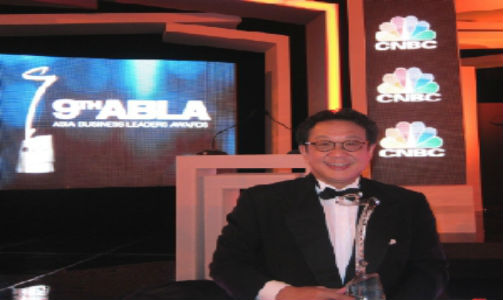 YTL Community, November 26, 2010
Tan Sri (Dr) Francis Yeoh, Managing Director of YTL Corporation Berhad, won the Corporate Social Responsibility Award at CNBC's 9th Asia Business Leaders Awards (ABLA) 2010, held in Singapore on Thursday.
The Asia Business Leaders Awards was launched in 2001 to honour the top business leaders in the Asian region, who have contributed and shaped the Asian economy and individuals who make a difference through leadership in their respective industries.

The Corporate Social Responsibility Award recognizes outstanding contributions to the arts, education, the environment and community development. The award was bestowed on the candidate who has the ability to translate a company's success into benefits for the community and who made societal impact a corporate priority.
Award-winning anchor, Maria Bartiromo hosted this year's live show, which was broadcasted globally around the world on CNBC.
The Corporate Social Responsibility Award was awarded to Tan Sri Dato' (Dr.) Francis Yeoh, Managing Director of YTL Corporation BHD for his ability to translate the company's success into benefits for the community.
"I salute my Lord Jesus Christ and give Him all the honour and credit for this award. I salute all at YTL and fellow nominees for having a heart for Corporate Social Responsibility and for bringing positive change and for incorporating CSR in your DNA rather than being a PR exercise. Thank you very much and God Bless all of you," said Yeoh when receiving the award.
YTL has grown from a domestic construction company, established in 1953, into a global integrated infrastructure developer. Yeoh leads the way in recognizing opportunities by which YTL's work can have a positive impact on society, making societal impact a corporate priority. YTL, under Yeoh's leadership, offers scholarships promoting higher education for Malaysians, and undertakes initiatives aimed to promote education, health, and environmental improvements. YTL is also a major supporter of the Arts in Malaysia.
YTL Group has successfully built a rapport as a major advocate of corporate social responsibility with its string of accolades when it emerged Winner of the Frost & Sullivan Malaysia Excellence 2010 Award for "Green Energy Company of the Year", and Winner of the Global CSR Awards 2010 Bronze Award and a Silver award in 2009 for "CSR Leadership Excellence". YTL also garnered two awards at the Singapore Green Summit (SGS) when PowerSeraya clinched two awards - for "Best Sustainability Report" and "Best First-Time Report".
On its home front, YTL supports the global movement of Earth Hour and has successfully organised its annual Climate Change Week, the most recent of which was held in June 2010 for the fourth consecutive year.
YTL's CSR focus includes protection of the environment, promotion of arts and culture, and supporting education and community development. While its promotion of arts and culture and development of education and community endeavours are laudable, YTL's environmental efforts are of particular note, especially as its business is mainly in development.
This year YTL Corporation launched the 'YTL Fellowship for a Rare Planet', a community-based conservation programme that is set to directly benefit environmentally-threatened sites in Malaysia and Asia, home to some of the world's richest natural resources and most extraordinary species and habitats.

The US$ 2 million Fellowship fund is in support of Rare, an international conservation group with success in 50 countries. Over the next four years, the 'YTL Fellowship for a Rare Planet' will run Rare's proven model of training local leaders (Fellows) in Asia, to foster conservation at the community level while improving their livelihoods through what are called Pride campaigns - so named because they inspire people to take pride in the natural assets that make their communities valuable.
YTL also takes a special initiative in responsible tourism. Its Pangkor Laut Resort on Pangkor Island Malaysia is an entirely green development, from its design to the types of building materials used, to its waste disposal. YTL also has on-site ecologists at the resort, dedicated to researching the biodiversity and ecology of the rainforest, wildlife and marine life on the island, as well as running educational tours for visitors.
In its various companies, YTL takes great measures to lessen its activities' impact on the environment and incorporates sustainability and sustainable development in the heart of the Groups' business strategy.
For further details about the ABLA Award 2010 please click the link below;
http://www.cnbc.com/id/40264875/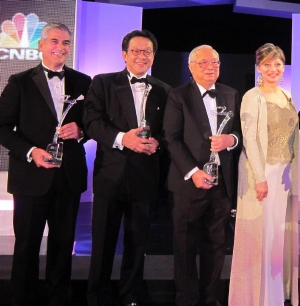 Back