Tan Sri (Dr) Francis Yeoh awarded the HAPA Lifetime Achievement Award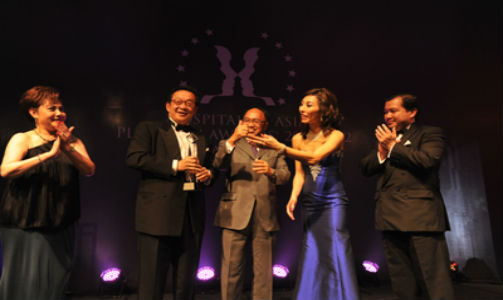 Kuala Lumpur, December 1, 2010
Tan Sri (Dr) Francis Yeoh, Managing Director of YTL Corporation Berhad was awarded the HAPA Lifetime Achievement Award for Hospitality Developer of the Year. The Hospitality Asia Platinum Awards (HAPA) recognises and rewards the people and establishments who have shown drive, dedication and passion for the hospitality industry.
In his acceptance speech, Tan Sri (Dr) Francis Yeoh expressed his gratitude to HAPA for the award and he stressed that it is always an honour to receive a lifetime achievement award from hospitality organisations that recognise what his team at YTL has created in the name of nature through his internationally known hotels, resorts and spas.
This year marks a milestone in YTL's achievements with the opening of it's MUSE Hotel De Luxe in the French resort town of Saint-Tropez and the Hilton Niseko Village, and Green Leaf Hotel in Niseko, Japan.
In addition to its resorts in Japan and Saint-Tropez, YTL has expanded significantly in the last year - truly bringing to life its vision of creating treasured places and treasured moments with the addition of the Swatch Art Peace Hotel in Shanghai, China; The Chedi in Phuket, Thailand; and both Pulau Gaya, a deluxe rainforest family resort near Mount Kinabalu and Pulau Tiga in Borneo.
With their global expansion in 2010, YTL brings a natural essence of culture, character and tradition to each destination embracing different luxurious experiences.
YTL Hotels was awarded a total of 21 recognitions at the HAPA 2010-2012, Malaysia Series, Gala Dinner and Awards Presentation. Pangkor Laut Resort took home the HAPA Spa of the Year and HAPA Hotel/Resort of the Year awards. Stephen A. Cokkinias, general manager of The Ritz-Carlton, Kuala Lumpur received the HAPA General Manager of the Year and Choong Kim Foong, assistant restaurant manager of Li Yen at The Ritz-Carlton, Kuala Lumpur won the HAPA Service from the Heart Award. HAPA has only ever given out this award once in its nine-year history hence making this outstanding service award extraordinary.
The various properties in the conglomerate and several of its employees were also recognised for their accomplishments in a number of categories from Service Excellence, Best Five Star Hotel, Best Spa Experience, Best Boutique Hotel/Resort, to Best Western Cuisine Restaurant, Best Chinese Cuisine Restaurant, Best Executive Chef, Best Chinese Cuisine Chef and Most Unique F&B Concept.

Back