Ernst & Young awards Entrepreneur of The Year 2006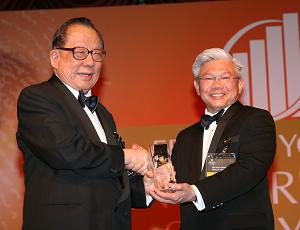 Kuala Lumpur, 18 December 2006
In an impressive awards ceremony held at the Mayang Sari Grand Ballroom of the JW Marriott Hotel, a panel of jury named Dato' Tony Fernandes, chief executive officer of AirAsia Berhad, as Malaysia's Ernst & Young Entrepreneur of The Year® 2006, chosen from a selection of 16 outstanding entrepreneurs who are all leading captains of industry.
Fernandes received his award from Deputy Prime Minister of Malaysia, Dato' Seri Najib Tun Razak. In addition to receiving the Country Award, Dato' Tony Fernandes was also named the recipient of the Master Entrepreneur of the Year® Award.
Fernandes started his career with Virgin Group, before joining Warner Music International London. At a youthful age of 27, he was transferred back to Malaysia to head Warner Music Malaysia where he had twelve illustrious years, his last position being the Vice President ASEAN.
His drive to become his own boss led him, with three partners, to takeover an ailing airline. In December 2001, Asia's first low cost carrier - low fare, no frills - was born. In a mere 5 years, the airline had formed two successful joint ventures in Thailand, and Indonesia, became the first airline in the world to introduce SMS booking, introduced ticket-less travelling, expanded its fleet from the original two to forty-six, and now flies to over 40 destinations in Malaysia, Thailand, Indonesia, Macau, China, Philippines, Brunei, Cambodia, and Vietnam.
Since its inception, AirAsia has recorded profits annually despite increasing fuel costs. It is now a public listed company on Bursa Malaysia, having raised RM717.4 million in one of the largest public offering in Malaysia. In less than 5 years, AirAsia group has carried over 23 million guests.
The awards are a culmination of several months of interviews and judging sessions by an independent panel of judges. "We take great pride in the role we have played, and will continue to play in celebrating the story of how so many hard-won dreams have come true. It was indeed a challenge for the judges to select the award recipients, as each top nominee is a winner in his or her own right," said See Huey Beng, Country Managing Partner, Ernst & Young Malaysia.
Three other awards were presented at the evening's awards ceremony: Kenny Goh Chee Ken and Henry Goh Chee Heng of Macro Kiosk Berhad were named the Emerging Entrepreneurs of The Year; Simon Loh Wee Hian of e-pay (M) Sdn Bhd, was named the Technology Entrepreneur of The Year; and Nafisah Radin of NR Architect, was named the Woman Entrepreneur of The Year.
As the Malaysian Ernst & Young Entrepreneur of The Year® 2006, Dato' Tony Fernandes will carry the flag and represent the country at the world award event at Monte Carlo in May 2007. This world award event is stage to more than 40 of the best entrepreneurs from around the globe who will compete for the 7th Ernst & Young World Entrepreneur of the Year Award ® which has become the global benchmark of entrepreneurial excellence.
YTL Group Managing Director, Tan Sri Dato' (Dr) Francis Yeoh was the winner of the inaugural Malaysian Ernst & Young Entrepreneur of The Year® in 2002. YTL Group Executive Chairman, Tan Sri Dato' Seri (Dr) Yeoh Tiong Lay attended the awards ceremony as the sponsor.
Back