Tan Sri Francis Yeoh bestowed The Order of the Star of Italy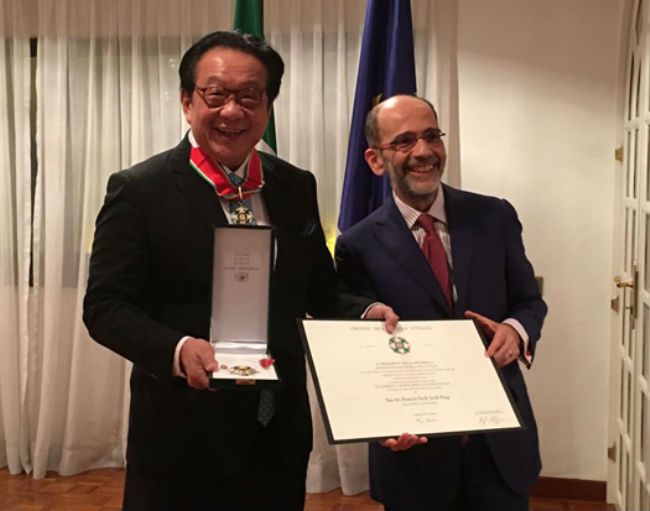 Kuala Lumpur, 30 November 2018
On Nov 23rd 2018, YTL Executive Chairman, Tan Sri (Dr) Francis Yeoh was bestowed with the honour as Grande Officer of the Order of the Star of Italy for his philanthropic work in preservation of the arts and promotion of ties with Italy.
The event held at the Italian Residence was hosted by The Ambassador of Italy, His Excellency Cristiano Maggipinto and wife, Mrs Tamara Hardikar.
A huge supporter of the Arts, Yeoh co-founded the Kuala Lumpur Performing Arts Centre and is Regional Chairman of International Friends of the Louvre. With a love for the Opera and classical music, Yeoh a friend of the late great tenor Luciano Pavarotti donated €1 million to the Teatro dell'Opera di Roma to fund maintenance work and the creation of new operas to keep audiences coming.
To mark the entrance of YTL on the Board of Directors of Teatro dell'Opera di Roma, Yeoh offered the city of Rome a gala concert at the Terme di Caracalla in 2015, with all proceeds going to UNICEF. The evening was filled with magnificent music, with the ancient baths as a backdrop, and featured the return of José Carreras, and performances by the tenors Russell Watson and Alessandro Safina, the flautist Andrea Griminelli, the soprano Cynthia Lawrence and the mezzo-soprano Carly Paoli.
Yeoh also played a pivotal part in organising the Music For Mercy concert in celebration of the Jubilee Year of Mercy in 2016. Held at the historical Roman Forum, the free concert was open to the public and featured acclaimed tenor Andrea Bocelli.
The concert brought together artists from different cultures and countries, including Malaysian singer Zainal Abidin, clarinetist Kinan Azmeh from Syria, David Foster, pianist and winner of sixteen Grammy Awards, The Tenors from Canada, Elaine Paige and Carly Paoli from the UK, and Italian singer Giovanni Caccamo.
In December 2016, Yeoh was honored with the 'Capri Legend Humanitarian Award' for his philanthropic activity in nurturing and preserving the arts.
Back